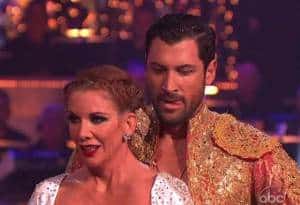 **UPDATE – Melissa Gilbert Tweeted she has mild concussion and whiplash but is okay*
KISS opened for Dancing with the Stars Week 4 and set the ballroom ablaze. Belting out "Rock and Roll All Night" complete with their usual electrifying stage show and smashed guitars, did anyone even notice the accompanying dance by The Troupe? Not me. The judges even waved score paddles of "11" for their performance. With a show opener like that, of course you would expect a fabulous evening to follow, right?
Aside from Donald Driver and Peta Murgatroyd's fantastic paso doble, which puts him on top of the leaderboard, KISS was the best thing on Dancing with the Stars all night. In what should have been 2 hours of awesome hard rock dancing to the tunes of the Rolling Stones, Quiet Riot, Queen, Jimi Hendrix, Twisted Sister and Alice Cooper, it was just one dance step away from chaos. The 'lots of leather and lots of fire'promised by ABC's Dancing with the Stars press release was delivered, but was far better than the actual dancing. Abysmal scores, injuries and mishaps cast a pall over the night.
No 10s were earned by anyone, and we watched Katherine Jenkins fall to fourth place from the top of the leaderboard. Katherine and Mark's paso was panned for showing promise but not delivery. The judges noted unclean footwork and attack that caused her to lose her footing. On the other side of the coin, Jaleel White (lovey dovey again with partner Kym), was criticized for failing to bring attack and stealth into his tango. Maks Chmerkovskiy slipped and fell during his paso with Melissa Gilbert, who left Dancing with the Stars by ambulance after her performance. Carrie Ann noted she looked like she was hanging on to Maks for dear life, and there actually may be a good reason why. William Levy had an epic screw up in his jive, missing turns and nearly dropping partner Cheryl Burke. For their grand finale, Cheryl lost her shoe. See the video below. Even with this massive goof, he scores an 8 from Bruno. Lust is blind.
Sherri Shepherd fell short of the judges' expectations and received her lowest score of the season. Maria Menounos danced with yet another injury, this time a stress fractured foot. I'm truly baffled by a woman who can supposedly break 2 ribs then wrestle the next weekend, and now fractures a foot but can still don and dance in tango shoes. Overall her tango was good, but the judges noted she lost a little control. Thankfully Roshon Fegan's Viennese Waltz was elegant and precise enough to put him high up on the leaderboard where he belongs, and Carrie Ann called him the best male dancer of the season. Gavin DeGraw was criticized for his frame, but managed to pull off a decent tango. He inched his way up one point from last week. Although she always brings class to the Dancing with the Stars ballroom as the judges say, Gladys Knight's posture in her tango did her in enough to put her in last place.
Week 4 Leaderboard
-Donald & Peta 27
-Roshon & Chelsie 26
-Maria & Derek 26
-Gavin & Karina 25
-Katherine & Mark 24
-Jaleel & Kym 22
-William & Cheryl 22
-Melissa & Maks 22
-Sherri & Val 21
-Gladys & Tristan 20
It looks like Gladys is in the biggest trouble and we may be saying goodbye to her this week. However, since there is only a 1 point difference between her and Sherri, and one point difference between Sherri and the three couples with 22. it's thisclose and every single vote is going to count. Thankfully KISS will be back tomorrow night to perform, because the Results Show is going to be scary for everyone. The Dancing with the Stars Results Show airs Tuesday, April 10 at 9 p.m. on ABC.