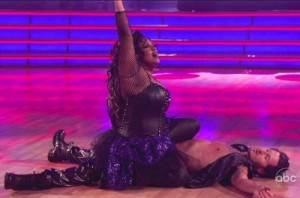 Dancing with the Stars host Tom Bergeron had Twitter all abuzz hours before show time when he tweeted out that tonight's results would be jaw dropping. And boy was he right. Sherri Shepherd may have been criticized for being 'expressionless'in her tango, but she and the audience were anything but as tears streamed down her face and jaws dropped around the country at her surprise elimination. Placed in the bottom two alongside Roshon Fegan in the remaining minutes of the show, she already began to cry before her fate was announced. When she heard the news, the tears kept flowing as she encouraged viewers to run toward their fears. See video of the elimination below.
Sherri's elimination is only shocking because she had been doing well up until Week 4 and was thought to be popular among viewers. However, with her latest score of 21, she was only 1 point from the very bottom dweller, Gladys Knight. More of a surprise to me from a dancing point of view, is that William has not made the bottom two. He has had mishaps the last two weeks and based on Monday's night's mess of a jive, he should have been in jepardy. Thanks to Bruno's score of 8, coupled with rabid female voters, he dodges yet another bullet. I was hoping Tom's tweet meant that Bruno would be eliminated but no such luck. For the first time this season, Gavin DeGraw was not in the bottom two so things are looking up for him. This is Roshon's second time in the bottom two and he doesn't deserve to be there. He's one of the best dancers in the cast, and Carrie Ann even labeled him the best male dancer after his Viennese Waltz. I urge the parents of the Disney audience to please let your kids stay up a little later to get those votes in for this highly skilled dancer.
Melissa Gilbert was unable to appear tonight per doctor's orders. Maks took the save for them solo on stage. It's uncertain whether she will remain in the competition, as there has been no confirmation as of yet. Dancing with the Stars aired the footage of her in distress, receiving oxygen as KISS band member Gene Simmons looked on. See video below.
Judge Len Goodman blamed the voters for tonight's results, demanding that we not shout at him in the street. Actually, we can do just that for the next three weeks when the judges decide which of the bottom two will be sent home after a '˜dance duel'between them. So there Len, it will be your fault after all.
Next week is Latin Week, with a performance by Santana. The next Dancing with the Stars performance show airs live Monday, April 16 at 8 p.m. (ET) on ABC.