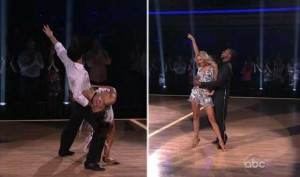 Dancing with the Stars debuted the 'dance duel'in Latin Week and not surprisingly, it sent Gavin DeGraw home. Gavin charmed viewers with his sweetness, gentle sense of humor and constant smile. Unfortunately he had some rough weeks throughout the season and found himself in the bottom two every week except one, so it was time for him to go.
Gavin was at the very bottom of the leader board with a 19 and not enough votes to help him recover, and along with Jaleel White with a score of 24, had one last chance to redeem himself with a cha cha. Neither contestant had danced a cha cha in the competition as of yet. Jaleel being the better natural dancer gave the better performance, and the judges unanimously saved him. It was a suprise that Jaleel found himself in the bottom two, while lower scored Melissa Gilbert and Gladys Knight were saved. His plight may be attributed to having danced first Monday night, which is the worst placement. By the time the show is over, nobody remembers the first dance.
The 'dance duel'was not easy to watch. The two couples danced simultaneously on either side of the dance floor, and the dances were shown in a split screen format. This made it nearly impossible to watch both at the same time. See video below. Fans on Twitter weren't impressed with this new elimination scheme, but the purpose of the dance duel is to save the better dancer. Dancing with the Stars claims that too often good dancers are sent home and viewers complain, and therefore the dance duel will fix that. Makes sense, but the viewers don't trust this new process at all. They smell rigging and are afraid the judges will use this to save their own favorites. There will be two more dance duels, in Weeks 6 and 7. Then the results return to the power of the voters.
Next week on Dancing with the Stars is Motown Week, and as Gladys says, she will get to see some old friends. The contestants will be dancing to performances by The Temptations, Martha Reeves and Smokey Robinson. There will also be a double elimination next week to even up the number of remaining dancers wiith the number of weeks left in the season. Dancing with the Stars Week 6 kicks off Monday, April 23 at 8 p.m. (ET) on ABC.