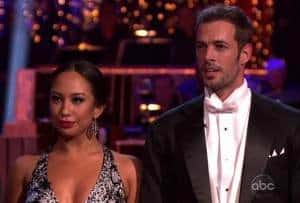 Dancing with the Stars week 8 determines the semi-finalists of Season 14 with a regular ballroom round of dances and the first ever 'Latin Trio'round. First up was the ballroom round, with all six couples performing a new dance. Then came the highly anticipated trio dances, where a previously eliminated pro or member of the Troupe was added to the dance to form a 'threesome.'The two sets of scores were added together, and William Levy tops the leaderboard with 57 while Melissa Gilbert (as usual) rounds out the bottom with 51. The pressure was at a fever pitch as the contestants face a double elimination this week.
Donald Driver's first dance was a fierce tango that was underscored. While he received no real criticism, the judges settled on 9s across the board. His and Peta's trio jive with Karina Smirnoff was one of the best of the night, and finally he gets a 10. Maria Menounos' flawless, emotional Viennese Waltz earned 10s from Carrie Ann and Bruno, but not Len. Len felt partner Derek Hough should have kept her in hold more where she shines. For their trio samba with Troupe member Henry Byalikov, they incorporated a Bollywood theme, but Len didn't care for it, giving them an 8. While the Bruno and Carrie enjoyed the creativity, Len felt it had no connection to the Samba.
Melissa Gilbert's foxtrot was a bit rough in the beginning with some missteps but she finished flawlessly. All three judges were kinder than we could have imagined, given their typical harsh treatment of Melissa and partner Maks Chmerkovskiy. Melissa had a rough week in rehearsals with Maks who lost his patience and cursed repeatedly. And he blamed her for bringing that out of him. Melissa didn't break, she held it together and told the cameras that people are responsible for their own emotions (take that, Maks!) By the time they were given their scores, Maks was apologetic and Melissa was in tears. They brought in Val Chmerkovskiy for their trio samba which excited the crowd, especially during Melissa's big finish with each of her hands on the Chemkovisky butts. Bruno's comment 'It obviously takes two to get the best out of you'was right on the money and Melissa earned her first set of 9s.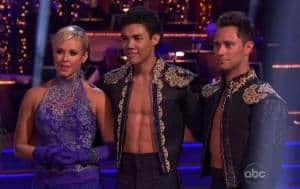 Katherine Jenkins suffered a concussion courtesy of partner Mark Ballas'knee during rehearsals for their Viennese Waltz. And watching the intricate floor spin Mark put her through, it's no wonder. Len did not like the spin, but appreciated the waltz content. Bruno and Carrie Ann both noted Katherine lost her balance for a moment, leading Carrie Ann to reference 'cirque du soleil' again. Pro Tristan MacManus joined them for their trio cha cha which would have been flawless, except that she found herself trapped in a wardrobe malfunction. Her tear away pants were caught on her foot and she actually danced with it for a few seconds before being able to kick it off. See video below. The judges commended her for never missing a beat during that frightful moment.
Roshon Fegan was finally vindicated for the awesome dancer that he is. He went in to the week feeling discouraged that he's been in dance duel twice but also worried that it's not there to save him. Thankfully he was able to shine in his foxtrot and the judges responded appropriately (for once.) Bruno compared him to a young Mickey Rooney and even Len gave him the Len seal of approval 'good job dog'. Roshon received two 10s, and overall, his hightest scores ever. Roshon and partner Chelsie's trio paso doble was with Troupe member Sasha Farber, who assured them he'd keep them out of the bottom two. Their trio was fabulous, but Bruno and Carrie Ann noted he was out of sync with Sasha for a second. Bruno did say that there were moments he couldn't distinguish between Roshon and Sasha. Len on the other hand didn't even mention it, calling the trio two skinny fries chasing the ketchup. Host Tom Bergeron quipped that Len has had his happy meal.
William Levy's foxtrot. Can this man do no wrong? Carrie Ann called it 'super hot and sexy', words not typically used to describe a foxtrot. Bruno gushed as usual. William and partner Cheryl Burke received 10s across the board. Cheryl brought in pro Tony Dovolani for their trio paso doble which was in fact super-hot and sexy. Len saluted the three of them, but amazingly Bruno noted William lost synch with Tony.
Week 8 Leaderboard Performance scores + Latin Trio scores
William & Cheryl 30 + 27 = 57
Roshon & Chelsie 29 + 27 = 56
Donald & Peta 27 + 28 = 55
Katherine & Mark 26 + 29 = 55
Maria & Derek 28 + 25 = 53
Melissa & Maks 24 + 27 = 51
On tomorrow night's Dancing with the Stars: The Results the bottom two couples will be sent home, paving the way for the Season 14 semifinals. The Results Show will feature a tribute to Dick Clark and his American Bandstand show, with a big dance number by Karina, Tony, and the Troupe. Chris Brown will be the musical guest performing his hit 'Turn Up the Music. Dancing with the Stars: The Results airs live Tuesday, May 8 at 9 p.m. (ET) on ABC.