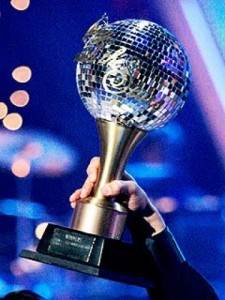 J.R. Martinez, American war hero and former All My Children actor, and his partner Karina Smirnoff danced off with the Dancing with the Stars Season 13 Mirrorball Trophy. The season long fan favorite went into the Finale Results Show tied with Ricki Lake and Derek Hough, and behind leaderboard topper Rob Kardashian and Cheryl Burke, yet was able to overcome those huge odds.
How did he do it? Well, with a lot of help from his fans, first of all. The rankings of the 'favorite dance,'coupled with Monday night's scores pushed him down to third place, while they propelled Ricki and Derek to first place. But, the viewer votes launched him past Ricki and Derek, who were the first to be eliminated. J.R. and Karina then competed against Rob and Cheryl in the Instant Samba and the two couples received the same perfect scores of 10 from all the judges. That gave J.R. & Karina a total of 112 and Rob & Cheryl a total of 113 points from the two nights. So once again factoring in the votes, J.R. took it. And thus, the Dancing with the Stars Season 13 Mirrorball Champion was born.
J.R. Martinez, a relative unknown outside the soap opera world, relied on his charisma and talent to get him through week to week. It certainly didn't hurt that his backstory, an Army soldier who while stationed in Iraq suffered burns over 40% of his body resulting in disfiguring injuries, won over the hearts of viewers. His story of survival, struggle and service to his country touched millions of Dancing with the Stars fans. Through his perseverance and mostly sharp performances each week, he earned that Mirrorball Trophy, and then some.