After a whirlwind season full of surprising contestants, and even more surprising favorites and shocking eliminations, Dancing With the Stars has finally reached the most suspenseful point of its season; the round that will determine who will complete for the mirror ball in next week's two part finale. Tonight, four couples will compete for the right to move on to that finale, and the performances and scores could even predict who is most likely to win Dancing With the Stars' coveted disco ball next week, but for the time being lets take a moment to predict who will, or will not, move on to the finale.
Couple #1 – J.R. Martinez & Karina Smirnoff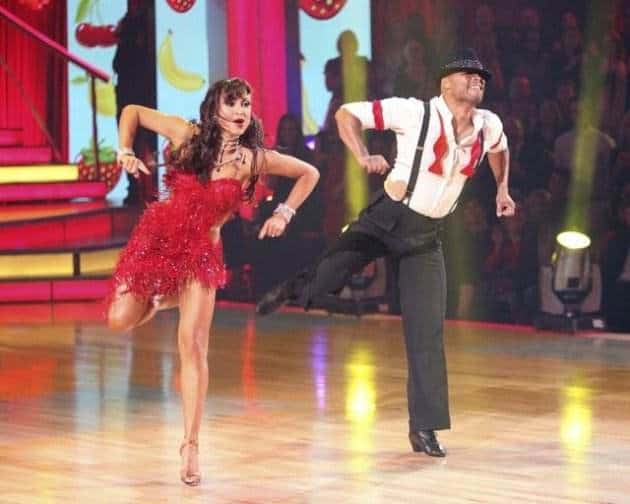 Every year Dancing With the Stars pundits talk about how success on the show is divided between celebrity appeal and actual dancing ability, with the dancing become more and more weighted towards the end of each season. In J.R. Martinez you have an individual whose life transcends celebrity, perhaps more than any other competitor to ever walk across the Dancing With the Stars Ballroom. As Martinez's mentor and partner, Smirnoff is one of the most recognizable pros on the show and is well loved by the fans. Putting their celebrity, J.R. can actually dance very well and his positive attitude towards competition is infectious and inspirational. Martinez will most definitely make it to the finals of Dancing With the Stars, and is one to watch to the end.
Couple #2 – Ricki Lake and Derek Hough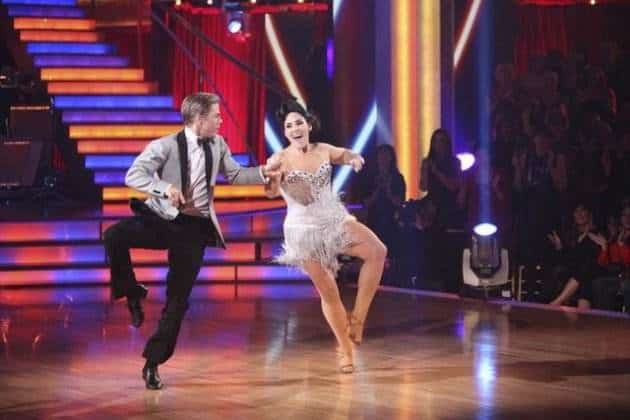 Ricki Lake's extensive background as a performer in various venues has given her an edge all season long. Her dancing has come a long way, but her presentation has been top notch from the very beginning of this year's Dancing With the Stars' competition. She is nuanced, focused, and exudes ambition. Much in the same way that Jerry Springer captured hearts during his run, Ricki knows how to work a crowd through her years of on-the-floor talk show hosting. Derek Hough is intimidating to say the least, but despite his dancing prowess even he has to work to keep up with Lake's full spectrum performances. I put Lake as a potential underdog because much of her celebrity does emanate from daytime cable and cult films, but she has a good chance of being in the final three next week.
Couple #3 – Hope Solo and Maksim Chemerkovskiy
If this duo walked in off the street to join Dancing With the Stars as complete unknowns, they'd probably still be at this stage of the game. Hope Solo is beautiful, elegant, athletic, and a disciplined dancer who is practically indistinguishable in skill from her 'pro' partner, Chemerkovskiy – who is, with no doubt, one of the the best recognized and most well loved pros from the male stable of Dancing With the Stars' pros. This captivating team is the force to reckon with this season and will be tough to beat come next week. They will, pun intended, skate through this week's round.
Couple #4 – Rob Kardashian and Cheryl Burke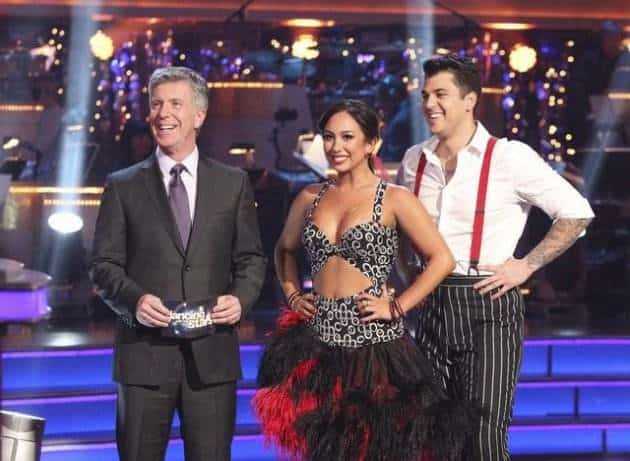 Cheryl Burke kicked off her Dancing With the Stars career with two back to back wins and has since then competed in the finale twice. It's been four seasons since she's made it to the final round, and she's hungry for it, you can tell. Being teamed with the 'why is he famous again?' celebutante Rob Kardashian portended a rough road for Burke, and the road to tonight's competition has been a rough one. Despite the ridicule that comes with being famous for being "the brother of that girl in the sex tape who was married for 72 days…" Kardashian has put an earnest effort into bettering his skills. Perhaps it's driven by an unconscious need to legitimize his 'celebrity' status. Whether his real sweat and tears outweigh the fact that there isn't much really keeping him in the 'stars' column doesn't really matter at this point, as we stated earlier dancing ability is now tipping the scales of celebrity and Kardashian will need to pull off an absolute stunner to stay in the Dancing With the Stars game. Prediction: it's back to reality TV after tonight, Rob Kardashian is going down.