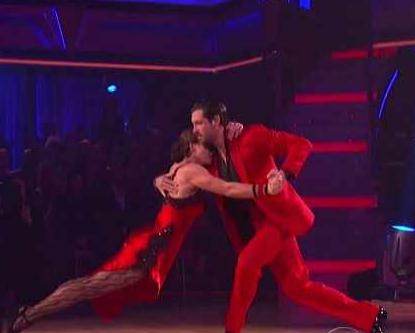 It was a night of injury and upset on Dancing with the Stars Semifinals of Season 13. Hope Solo and JR Martinez both battled injuries, Ricki Lake is back on top and Rob Kardashian's place in the finals (and Hope's exit) is now secure.Going into the Semifinals, Rob and Hope were really at battle for the third spot in the finale, but the judges took care of that. Sadly, JR finds himself in 3rd place while Hope sinks way to the bottom.
Each couple performed an Argentine Tango, either a Paso or a Samba, and participated in a Cha Cha relay. Check out the video clip below for a quick recap of the dances. JR had a rough night. Having twisted his ankle over the weekend, a night of 3 dances was sure to aggravate it. Sure enough, he re-twisted it during his first dance, the Paso. The judges said his posture was off because of the ankle but cut him no mercy. They gave him a 23. In obvious pain, JR soldiered on to perform a beautiful Argentine Tango. And while the judges had NO criticism for it, they gave him only a 27, when he deserved the 30. I'm quite suspicious that his underserved scores were to just keep Rob and Hope from scoring too near each other and making the votes too close. My madness will become clearer later.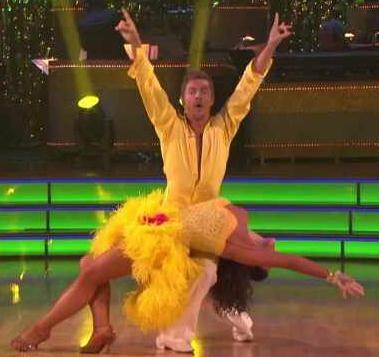 Hope did not fare so well tonight. An old shoulder injury reared its head here in week 9, and Hope needed what looked like cortisone shots to make it through the week. While they redeemed themselves with a pretty solid tango, their paso was panned pretty hard by the judges. All agreed she had so much attack she lost control and lacked artistry. And it didn't help that Carrie Ann tried baiting Maks after their Argentine Tango. Maks had a frozen smile on his face which Carrie Ann called him out on while she was critiquing their dance. Maks didn't take the bait, but Hope responded in support of he partner during the scoring. They paid the price with a combined score of 45.
Ricki got her dancing mojo back this week. She gave a 'fabulous'and '˜sizzling hot'samba (even though she was dressed like Big Bird) and was awarded a 30. For her tango, Len was happy and Carrie Ann said she had 'pop'now that added to her passion, and she received a 29.
Rob Kardashian had Carrie Ann salivating from the get go with his samba. She have him his first ever 10. Bruno was happy Rob turned his handicap (big butt) into a an asset. For his tango, Carrie Ann gushed that he looked like a leading man. His place in the DWTS finals is secure. His combined score was a 55, putting him in second place.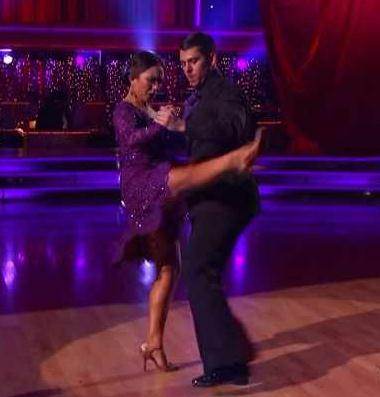 And then it was time for the Cha Cha Relay. All the couples cha cha'd to a snippet of one song, much like the instant cha cha in DWTS Season 11. Only this time they knew the song before hand and could rehearse properly. It was also reminiscent of the winner take all Cha cha in Season 12, which helped Chelsea Kane and Mark Ballas into the finals. This time it was designed to keep Hope out of the finals. The judges gave Rob 1st place, which added 10 points to his score. That drives the wedge far and deep between him and Hope. Ricki came in 2nd place and was awarded 8 points, JR third place (an outrage) with 6 points. For 4th place, Hope and Maks received 4 points. Here's how they stack up for the night
Week 9 Leaderboard:
Rick & Derek: 67
Rob & Cheryl: 65
JR & Karina: 56
Hope & Maks: 49
By separating Rob and Hope by 16 points, it means they are trying to avoid a narrow vote. It's pretty obvious Ricki, Rob and JR are definitely safe. Not only is Hope in jeopardy, there really is no hope for Hope now.
On tomorrow night's results show will be the Design A Dance segment featuring winners Derek Hough and Anna Trebunskaya dancing a paso to Lady Gaga's 'Bad Romance.'The Dancing with the Stars Results Show airs Tuesday, November 15 at 9 p.m. on ABC.