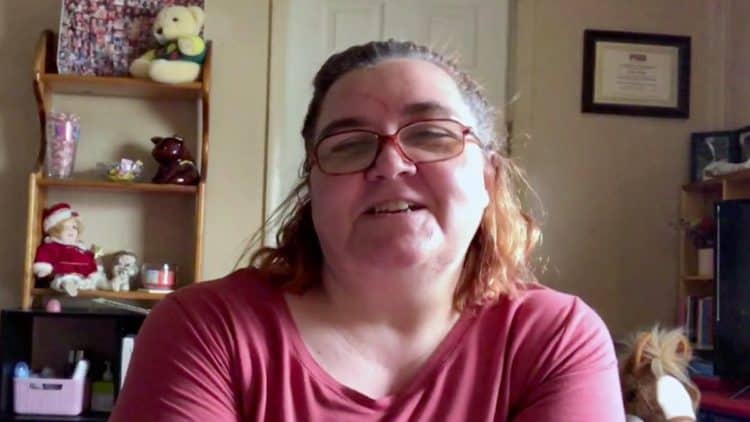 Since its debut in 2014, 90 Day Fiance has introduced the world to some very interesting people. But even as the list continues to grow, Danielle Jbali remains very close to the top. Danielle appeared on the series during season two. At the time, she was dating a man named Mohamed from Tunisia. As soon as the couple made their introduction, lots of people were skeptical about the validity of their relationship. Once Mohamed got to the United States, it quickly became clear that he had no interest in Danielle. Although the relationship ultimately left her heartbroken, it also made her a reality star in the process. Keep reading for 10 things you didn't know about Danielle Jbali.
1. She Has A Criminal Record
Since 90 Day Fiance is all about the cast members' relationships, viewers don't usually get to learn much about them outside of that. Many 90 Day fans will be shocked to learn that Danielle has actually had some run ins with the law in the past. In 2004, she was caught writing bad checks and was found guilty of theft and fraud the following year.
2. She Makes Videos On Cameo
Even though her love story didn't have the happy ending she was hoping for, Danielle was able to build a pretty big fan base thanks to her time on the show. Danielle's fans can now purchase personalized video shoutouts from her on Cameo for $40. For $4.99, people also have the option to chat with her.
3. She's Enjoying The Single Life
Danielle and Mohamed's divorce was a long process, but she is officially single. Despite many people painting her as someone who is desperate for a relationship, Danielle isn't in any rush to get back into the dating world. She is enjoying the single life and has no interest in rushing into another situation. However, in an interview, Danielle was sure to let people know that there is no shortage of guys in her DMs.
4. She's Not Done With Reality TV Yet
As one of the franchise's most unforgettable cast members, lots of people have been hoping to see Danielle back on TV. The good news is that it looks like those wishes might just be on their way to being granted. Sources have reported that Danielle is in the process of filming with TLC. It's unclear whether or not she's filming her own spin-off show or if this is something under the 90 Day Fiance umbrella.
5. She's A Grandmother
We didn't get to see too much of Danielle's family life while she was on the show, so some people may be surprised to find out there she is a grandmother. Even though Danielle is still in her 40s, she's very proud of her role as a grandparent. She loves to show off her grandchildren and the majority of posts on her Instagram are of them.
6. She's A Brand Ambassador
Being on TV didn't just make Danielle a reality star, it's also made her a social media influencer. She has more than 200,000 followers on Instagram alone. Having such a large number of followers has given her the opportunity to get paid to post products by various brands. She is currently an ambassador for Boombod and and Built Bar.
7. She Still Keeps In Touch With Mohamed
Most people would agree that the way Mohamed treated Danielle was anything but kind. He used her to get to the United States and wasn't shy about it. Yet even with a bad relationship and a terrible breakup, the two have continued to be on decent terms and still keep in touch.
8. She Wasn't Impressed With Her Love Life With Mohamed
Mohamed may have thought he was a catch for Danielle, but she appears to feel otherwise. In addition to being a jerk to her, Danielle also says that he wasn't even that good in bed. She didn't go into too much detail about their love life, but she did say that she's had better.
9. She's All About Positivity
Danielle has been through a lot over the last few years. Most people in her situation would be very bitter at this point, especially when it comes to romantic relationships. But she refuses to let her bad experiences bring her down. She is determined to stay positive and hopeful for the future.
10. She Still Watches 90 Day Fiance
Not only is Danielle a part of the 90 Day Fiance family, she's also a fan of the show. She still continues to tune in to see what's up with the latest couples. After the most recent season, she has been very vocal about her disdain for cast member, Ed 'Big Ed' Brown.