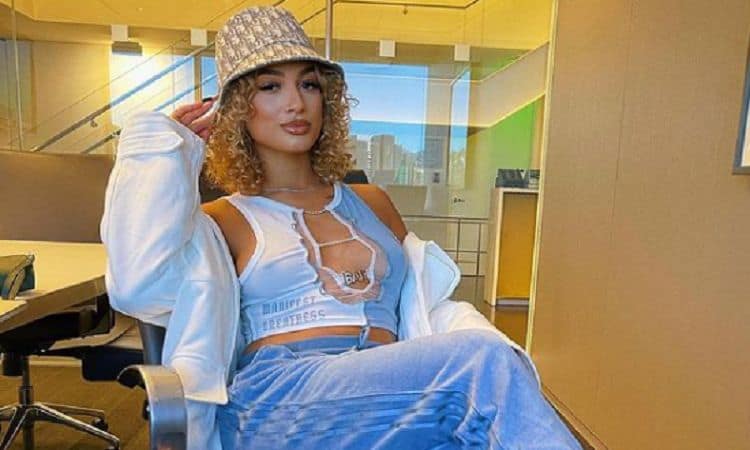 DaniLeigh is a woman who has spent her fair share of time in the press. Most of the time, it's because of her relationship with rap star DaBaby, with whom she dated for approximately one year. Their relationship came across as a little bit dramatic most of the time, and she's back in the press for calling it quits with the man she spent a year of her life with. The singer and choreographer has a life of her own outside her now former boyfriend, and it might be time fans learn more about who she is outside of all that.
1. She's 26
She's still very young, so she has her entire life in front of her to find someone to love and spend her time with. She was born on December 20, 1994. She'll celebrate her 27th birthday at the end of 2021.
2. She's Not DaniLeigh in Real Life
In real life, she has a name that is very close to her stage name, though. She's Danielle Leigh Curiel. She just took a bit of her first name and her middle name and made up her own name to go by, and we think it works. It's not as common as Danielle Leigh – which could get lost in any of the kids born in the early 90s alongside herself.
3. She's From Miami
She was born and raised in Miami. Her parents came to Florida from the Dominican, which is where she gets her beautiful skin and her heritage. She grew up very interested in music, which is not uncommon when you grow up in a city like Miami with its impressive music scene.
4. She has Great Inspirations
When she was growing up, she was listening to the best of the best as well as taking her influence from them. She listened to stars like Missy Elliott and the late Aaliyah. She also listened to Rihanna, who is one of the most famous singers in the world. Drake is another big influence in her own musical endeavors.
5. She's a Singer and Dancer
Anyone who knows her knows this, but did you know she began a long time ago? She was only 12 when she began to dance. She spent a few years working on her dance skills before she decided she would also take up singing. She was 14 when she decided to start singing.
6. She Was Very Shy Growing Up
Ironically, she was too shy as a child to actually perform her music or her dances in front of anyone. When she began singing and dancing, it was purely for herself. She couldn't find the bravery to do it in front of anyone, and she kept her talent to herself. That's a huge fear to overcome, and it tells us just how brave she is.
7. She's In Hot Water
Back in January of 2021, she was forced to apologize to her fans after a new song she released did not go over well with fans. It's called "Yellow Bone," and it references the color of her skin. Many of the people who downloaded her song and listened were unimpressed with the music and said it promoted colorism. She came out with an apology to everyone.
8. She Has a Huge Fan Base
Even if you don't know her by name, you should know that you're in the minority with that one. She has more than 3.4 million followers just on Instagram, and that's huge. Of course, her work as a choreographer and singer makes her very famous, and people love to keep up with her. She's worked with some of the biggest names in the business, and they know her well.
9. She's an Influencer
In addition to her work as a singer and a choreographer, she spends a great deal of her time using her social media platforms to influence those who follow her. Of course, she has so many followers that she can charge a substantial premium to post a photo of herself promoting something, and we don't blame her for that.
10. She's Private
She shares a little more of her life than most people do, but she's not sharing so much that we know what is going on in her life all the time. She's a woman who prefers to keep her life as private as possible, and we appreciate that. She keeps to herself, and there is nothing wrong with wanting the world to stay just a little bit out of her personal business.