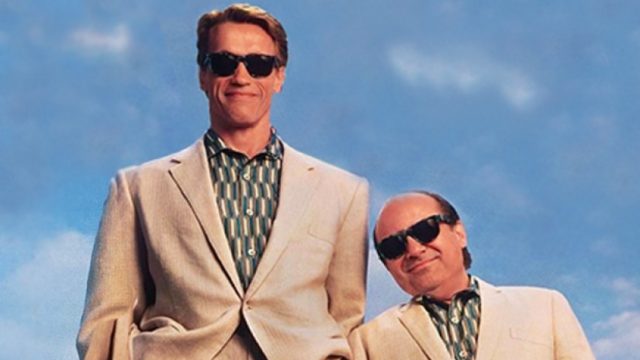 Danny DeVito is an actor and filmmaker who was born in Neptune Township, New Jersey, on November 17, 1944. He rose to prominence when he played Louie De Palma in the television series 'Taxi'. For his portrayal of the taxi dispatcher, he won an Emmy and a Golden Globe. Following his success in this series, he went on to enjoy a hugely successful career in the film industry playing lead roles in many blockbuster movies. Here are the top five movies of Danny DeVito's career.
1. Twins
Danny DeVito stars opposite Arnold Schwarzenegger in this hilarious buddy comedy film that was released in 1988. The two men are twins despite quite clearly sharing no similar physical attributes. The film was directed and produced by Ivan Reitman and written by William Davies, Timothy Harris, William Osborne, and Herschel Weingrod. From a budget of just $18 million, this movie grossed $216.6 million.
2. One Flew Over the Cuckoo's Nest
In the 1975 comedy-drama film 'One Flew Over the Cuckoo's Nest', Danny DeVito played the role of Martini. Others who starred in this film included Jack Nicholson, Louise Fletcher, William Redfield, Will Sampson, Christopher Lloyd, and Brad Dourif. The film was based on the novel of the same name by Ken Kesey. It was directed by Milos Forman with a screenplay written by Bo Goldman and Lawrence Hauben. It grossed $109 million against a low budget of just $3 million.
3. Matilda
In this 1996 fantasy comedy film, Danny DeVito plays the role of both Harry Wormwood, who is a Matilda's father, and also the narrator of the story. DeVito's real-life wife Rhea Pearlman starred opposite him as Matilda's mother, while Matilda was portrayed by Mara Wilson. Others who starred in this movie include Embeth Davidtz, Pam Ferris, and Brian Levinson. Danny DeVito also directed and co-produced the movie. It is based on the book of the same name by Roald Dahl.
4. Throw Momma from the Train
'Throw Momma from the Train' is another movie in which Danny DeVito starred that he had also directed. This 1987 black comedy film was written by Stu Silver and also starred Billy Crystal, Anne Ramsey, and Kim Greist. Although this film received mixed reviews, it was a commercial success as it gross just short of $58 million at the box office against a budget of $14 million. Danny DeVito was nominated for a Golden Globe for his portrayal of Owen Lift in this movie.
5. Get Shorty
'Get Shorty' is a 1995 crime comedy film that is based on a novel of the same name by Elmore Leonard. The screenplay was written by Scott Frank and it was directed by Barry Sonnenfield. Starring alongside Danny DeVito in this movie were John Travolta, Rene Russo, and Gene Hackman. This is one of Danny DeVito's top-rated movies on Rotten Tomato with a score of 86%. It was also a commercial success as it grossed $115 million at the worldwide box office against a budget of $30 million.