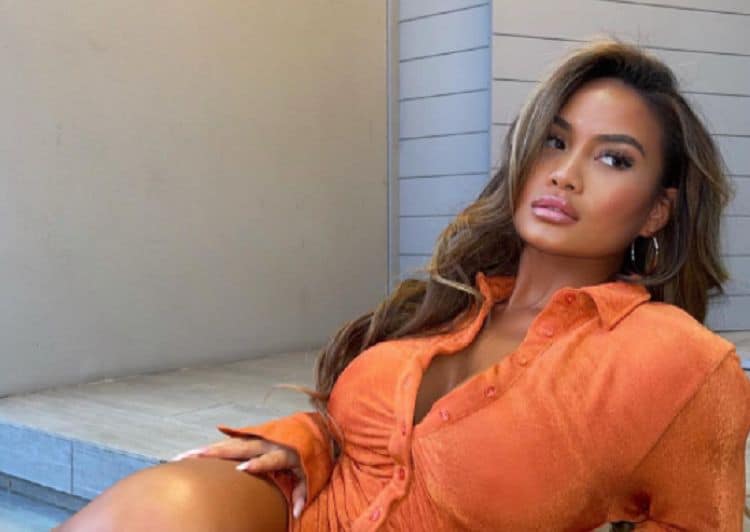 Daphne Joy has been in/around the entertainment industry for more than a decade, but it's her relationships with high-profile men that have gotten her the most attention. Most will recognize Daphne Joy as the ex-girlfriend of rapper, 50 Cent. Daphne is also the mother of 50's youngest child. Recently, however, Daphne has been linked to another music mogul, Sean 'Diddy' Combs. Although Daphne and Combs were photographed walking hand in hand together, neither of them has confirmed their relationship. But while the internet continues to focus on who Daphne may or may not be dating, we're here to tell you that there's much more to her than that. Keep reading to learn 10 things you didn't know Daphne Joy.
1. She Is From The Philippines
Many people have probably assumed that Daphne is originally from the United States, but that's actually not true at all. During an interview with Iron Man Magazine, Daphne said, "I was born and raised in the Philippines; my mom is of Filipino heritage, and my dad is Puerto Rican. I feel like I grew up in the best of both worlds, mainly because of the food!" When her family moved to the United States they settled in California.
2. She's Done Some Acting
Acting may not be Daphne's primary focus, but she's still gotten some cool acting opportunities over the years. Most notably, she played a mermaid in the 2011 film Pirates of the Caribbean: On Stranger Tides. Despite landing a few roles here and there, Daphne doesn't really think of herself as an actress.
3. She Always Loved Modeling
Daphne is a natural in front of the camera and she knows her to make every photo come to life. While talking to Iron Man Magazine Daphne shared that she was just a teenager when she fell in love with modeling although she didn't pursue it professionally until she became an adult.
4. She Likes To Cook
With a schedule as busy as Daphne's, it's easy to guess that she leaves all the cooking in her house to someone else. That isn't the case, though. Daphne really loves cooking and making food for her son is one of her favorite things to do. She often shares photos/videos of her dishes on social media.
5. She Is An Entrepreneur
If you thought that Daphne was nothing more than a pretty face, you might want to think again. Daphne is all about her business. She is the proud owner of an online boutique called the Daphne Joy Collection. She currently sells clothing, swimwear, purses, and other accessories.
6. She Loves To Travel
In addition to having lived in the United States and the Philippines, Daphne has been fortunate to visit many different parts of the world. She has traveled to places like France, Greece, and Italy. Out of all of the places she's been, Paris remains her favorite city.
7. She Doesn't Have Time For Negativity
Since being in the spotlight, Daphne has had to deal with lots of opinions from people she's never even met. Unfortunately, those opinions aren't always kind. Daphne has never been one to let other people's negativity get her down, though. She's all about focusing on the positive things in life and she enjoys spreading positivity to others.
8. She Is An Introvert
When people live their lives in the spotlight it can be very easy to assume that they're extroverts. Daphne, like many other public figures, is actually an introvert. Although she does pop up at events every now and then, she prefers to stay low-key and spend time with her son. Daphne also really enjoys her privacy.
9. She Is Passionate About Helping Children
Over the years, Daphne has built a large online presence which now includes more than a million people on Instagram alone. She has been very intentional about using her platform to raise awareness to causes that are close to her heart. One of those causes is child abuse. She is affiliated with the Child Rescue Coalition which is an organization dedicated to rescuing "children from sexual abuse by developing technology for law enforcement, free of charge, to track, arrest & prosecute child predators."
10. She Would Consider Doing A Reality Show
Lots of people have probably wondered whether or not Daphne has ever considered getting into reality TV. Apparently, the answer is yes. During an interview with VLAD TV back in 2014, Daphne shared that she would be open to the possibility of doing a reality show depending on what the show was about. Since Daphne is a private person, the series would need to focus on something that wasn't too invasive.