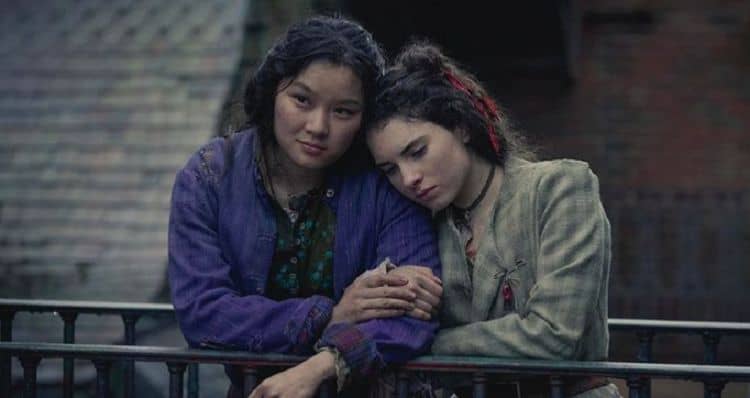 In the two years since Darci Shaw made her on screen debut, she has gone from a relatively unknown new comer to an actress on the brink of stardom. She got her first major break when she was cast as young Judy Garland in the 2019 movie Judy. Now there's an even bigger opportunity on the horizon and it could take her career to even higher heights. Darci will be in the upcoming Netflix series The Irregulars. The show follows a group of teens who get roped into solving crimes for a mysterious doctor. The role will be a great chance for Darci to cement her place as someone everybody should be paying attention to. Continue reading to learn 10 things you didn't know about Darci Shaw.
1. She's From Liverpool
Darci Shaw was born and raised in Liverpool, and as far as we can tell she still lives there. While she is very proud of the area she's from, it can be difficult to pursue a professional acting career in Liverpool because much of the auditions and castings take place in London.
2. She's Always Loved Acting
Even though Darci is just getting started with her professional career, her love for acting isn't anything new. Darci told Tresa Magazine, "I've always been involved in school plays and attended a Saturday stage school at LIPA from the age of five so I think I always wanted to perform. I did a few shows with the rep company at the Liverpool Everyman in 2017 and after that, I decided I wanted to really try and pursue acting. "
3. She's A Dog Mom
If you've ever had a dog you know that there's something almost indescribable about the bond between pets and humans. Despite not being able to communicate using the same language, there's an unspoken connection. Darci knows this first hand thanks to her sweet little fur baby.
4. She Participated In Blackout Tuesday
Darci isn't the most active social media user, but in June of 2020 she decided to use her Instagram account to show her support for the Black Lives Matter Movement and the fight to end racism. She participated in a virtual show of solidarity called Blackout Tuesday.
5. She Didn't Know Much About Judy Garland Before Playing Her
Darci is only 18-years-old which means that the legendary actress Judy Garland lived and died long before Darci was born. With that in mind, it makes sense that Darci wouldn't be too familiar with Judy Garland. When she was cast in the role, however, she did lots of research on the actress and became a huge fan of her work.
6. She Has A Strong Support System
The path to chasing a dream can be very lonely; this is especially true when that dream is something that many would consider unorthodox. Fortunately for Darci, she has a very supportive family that has been rooting her own every step of the way. Her mother, Louise, is very proud of all the things her daughter as accomplished so far.
7. She Only Has 4 Acting Credits
At the moment, Darci's acting resume doesn't have much on it. Since making her on screen debut in 2019, she has only racked up a total of 4 acting credits including the yet to be released The Irregulars. If she keeps going at the pace she's at now, her resume will list dozens of roles in no time.
8. She Likes Taking Pictures
As can actress, it goes without saying that Darci has gotten to be very comfortable in front of the camera, but she also feels pretty comfortable behind it. Although she probably doesn't think of herself as a photographer, her Instagram makes it clear that she likes to take pictures and she has a knack for it.
9. She Likes Watching TV
Darci isn't the type of actor who doesn't like to watch TV in her free time. Instead, there are quite a few shows that she loves watching. While talking to Tresa Magazine she said, "My favourite shows are The Morning Show, The Handmaid's Tale and RuPaul's Drag Race. I'm a huge fan of comedy shows and adore This Country, Derry Girls, Fleabag and After Life as well."
10. She Fell In Love With The Irregulars After Reading The Script
Sometimes an actor just feels drawn to a project, and that was the case for Darci after she read the script for The Irregulars. She fell in love with the project through the writing and she felt a strong connection to her character, Jessie. She's looking forward to sharing her excitement about the series with the world.