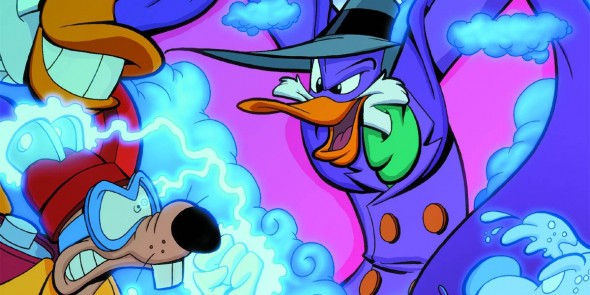 Let's. Get. Dangerous.
The terror that flaps in the night will be flapping his way back to TV very soon. As announced today, Disney XD is planning a new animated series starring the costumed duck that is currently scheduled to debut in 2018.
According to the network:
Our new series will bring that same energy and bumbling crime-fighting spirit that fans have come to love about Darkwing Duck. We're also going to add a gritty look that this generation of kids love. It's our goal that fans of old and new will enjoy the new Darkwing Duck.
No announcement was made about what supporting characters will return with the series, but it's presumed that favorites such as Gosalyn, Launchpad, Negaduck, Morgana, and more will be included in this new go-around. It's unsure exactly what's meant by "a gritty look," but it's easy to presume that this simply means an updated animation style.
If 2018 sounds like a long time to have to wait for the new series, fans can let the hero back into their lives this April as a new comic series from Joe Books debuts. The creative team for the comic series includes writer Aaron Sparrow and artist James Silvani, both of whom previously worked on a Darkwing Duck series for Boom! Studios in 2011.
Are you looking forward to Disney XD's Darkwing Duck reboot? Will you be checking out the comic series? Chime in down below with your thoughts and favorite Darkwing Duck memories!
Update:Â Well, no he's not. The comic series is definitely happening (confirmed by Bleeding Cool), but io9 has let us know that the animated series sources back to a recent April Fool's Day prank. Maybe this renewed interest will give Disney XD some ideas, though! We'll keep you updated.