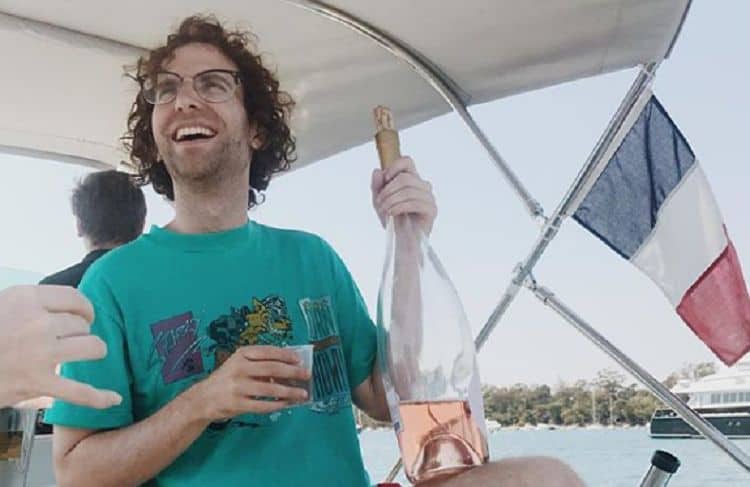 Certainly, if you're reading this you are familiar with the comedy sketch program 'Saturday Night Live' on NBC. If you're not, it's surprising, because the show has been around since the seventies, and is one of the longest running shows on television. Over the years, the players have changed, but essentially the game has remained the same: Short comedy sketches that are edgy, controversial, and full of satire.
Obviously there is more to the show than the up-and-coming comedians that star on it. Behind the scenes are writers who actually develop the comedy and put the sketches together. Sure, some of the actual comedians we see are involved in this process, but there are many whose faces we have never seen. They are nothing more to us that names that flash on our screens during the credits. Dave McCary is one of these people.
Comedian, director, and writer Dave McCary is a segment director for the long running comedy show. The position entails a lot, not just writing and directing, but those are the jobs that are his bread and butter, and he is good at them both, just as he is a skilled comedian. He may be 'behind the scenes to us, or at least, he was until today. Today we have determined to bring this talented man into the forefront and make him familiar to all of our readers so that he can receive the credit he has coming to him.
So, if you are a fan of Saturday Night Live, or just a fan of comedy in general, it is important that you familiarize yourself with Dave, because he is one of the minds behind the madness that millions watch every Saturday night. Learn more about him and his life by reading some facts that we have put together for you; it will make your job easier, and they made our job more fun. Read on, friends, and get to know Dave:
1. In the Beginning…
The truth is that not much information is available on Dave when it comes to his childhood or his family and personal life. What we can tell you is that he used to live with a childhood pal named Kyle Mooney, who was also a student at the University of Southern California at the time. During their co-habitation, Dave met up with Beck Bennett and Nick Rutherford, both of whom were destined to be members of the comedy group 'Good Neighbor Stuff', as was McCary himself.
2. About 'Good Neighbor Stuff'
According to the official website, Good Neighbor Stuff is a group that goes around performing comedy for on the road and bringing laughter to others. They have no normal touring schedule, and their act can only be caught every now and then, but they are worth it. The group was started by Dave, Kyle, Beck, and Nick when they were still in college tossing jokes around. Eventually the quartet decided that they might as well make some money off what they were doing when they began to get noticed and hired to do comedy at local events and at other colleges. This led to the group touring around the United States with their act. Today the group is comprised of a variety of members and is always changing, but it continues to put out awesome comedy that is original and hilarious due to genuine talent and the group's original, off-the-cuff nature.
3. Onward and Upward
It really didn't take too long, in the grand scheme of things, for Dave to begin to move forward in his career. During his time with Good Neighbor Stuff, the group received many head nods from important people, including Steven Spielberg. This recognition helped them to land a gig making a pilot for Comedy Central called 'The Good Neighbor Show, which was co-produced by Will Farrell…doors were definitely starting to open for him. It was during this particular time that SNL took notice of the talent, and the decades old sketch show had to negotiate with Comedy Central to get them to release him and his friends from their contract.
4. Saturday Night Live & Lovin' It
Dave finally joined Saturday Night Live during its 39th season; his official title was Segment Director. His three friends and 'Good Neighbor' pals joined him in different positions. To date he has directed, as well as contributed writing to, a variety of segments on the show, which are detailed below. He has also had the privilege of being involved in other works of comedy, and all of this together has managed to open many doors for him in his career.
5. Personal Life & History
Dave was born on July 2, 1985; he is 35-years-old and was born under the sign of Cancer. As mentioned previously, not much is known about his parents, or whether or not he has any siblings. He is a graduate of the University of Southern California. In 2017 Dave was nominated for a Primetime Emmy award for Outstanding Writing on a Variety Series, which was for the work he has done on Saturday Night Live. He has been dating actress Emma Stone for two years; the pair became engaged in December of this year, so a wedding is on the horizon for them.
6. Brigsby Bear
'Brigsby Bear' is a film by The Lonely Island that was directed by Dave and released in 2017. The film, a comedy-drama, featured Mark Hamill of 'Star Wars' fame, Greg Kinnear ('As Good As It Gets'), Kyle Mooney, Michaela Watkins, and more. In January of 2017 it premiered at the Sundance Film Festival and was released to the public in July of that same year. Sony Pictures Classics released the film, which is one of only things he has worked on outside of SNL since working on the show.
7. Saturday Night Live Segments
McCary is not only a segment director, but a writer for the show, and is responsible for many of its segments. A list of segments he has worked on are as follows:
Super Champions
Miley Sex Tape
Inside SoCal
Beer Pong
I Know
Ice Cream
Dancing
Mr. Senior
8. Current Net Worth
Dave has been active in his career since approximately 2007, when taking 'Good Neighbor Stuff' into the mix. With this in mind, Fullynetworth estimates Dave's 2019 net worth to stand at approximately $2.5 million, and this is considering all of his professional ventures. The income of his fiancée Emma was not taken into account when this approximation was given.
9. Social Media
McCary is active on social media, for those interested in keeping up with him by following his posts. He can be found on Twitter at @davemcrary; on Instagram he is at @davemccary (no first 'r'). His posts typically feature much about his work, and as of late, his engagement to Emma Stone.
10. How He Met Stone
As you can probably guess, Dave and Emma met on SNL in 2016. Stone was in the sketch 'Wells for Boys', and he was directing it, of course. Well, you know how they like to say that the rest is history? We'll leave that out here, but obviously, they hit it off enough for that to be said. Congratulations all around to the happy couple.
Sure, Dave remains mostly behind the scenes, both in his life and his career. But being married to movie star Emma is likely to change that somewhat. With his background in performing comedy, we doubt having to get into the limelight a bit more will bother him much, but the couple is said to be very private. Regardless of how much he decides to show his face in the future, we wish them both happiness, and nothing but the best in their days to come together. This talented man and woman seem to make a wonderful pair, and we're pretty sure we'll be seeing a lot more of him in the future.