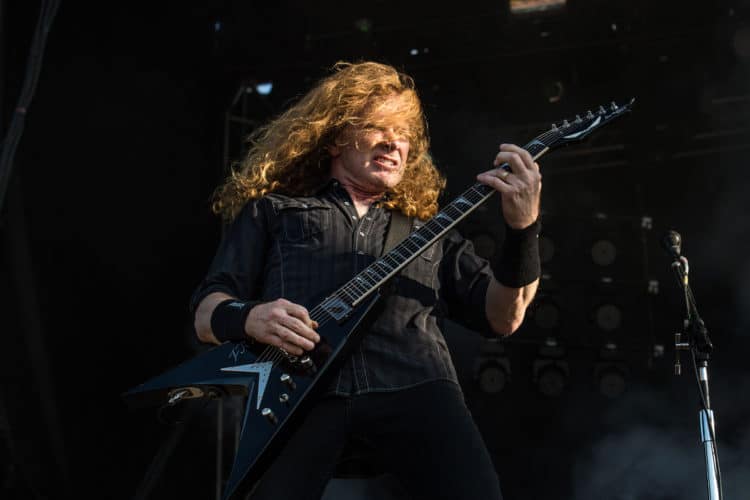 If you're not new to the world of rock then you likely know who Dave Mustaine is since he's been around for a while now and has been one of those individuals that seems to clash with others now and again but is still worth quite a bit when it comes to his contributions to music. It's true that he's been a part of several bands in his time but there's no doubt that a lot of people would likely associate him with Megadeath and Metallica, though it's fair to say that only the most dedicated fans would associate him with the latter since he was released from Metallica not too long after they got started. Needless to say there were some hard feelings at the time and it probably did serve as some motivation for Mustaine to go out and prove that he could still rock. To this day he's been doing his thing, though it's not for certain how much longer that will last.
Here are a few things about Dave you might not have known.
10. It sounds as though he landed his gig with Metallica fairly easily.
Honestly according to all reports that have been given it sounds as though Mustaine didn't even need to fully audition for the band since they seemed to accept him without much fanfare, offering to go out for a beer afterward to celebrate.
9. His end as a part of Metallica came largely because he was drunk all the time.
Unfortunately while everyone in the band drank and was rowdy at times Dave kind of pushed the envelope and was drunker, rowdier, and more heavily involved with drugs than the rest of the band combined it sounded like. His attitude was also reportedly poor and he didn't really mesh well with the other members. Despite his claim of having no warning or second chance it sounds as though the band simply had enough of him and had in fact tried to make him aware of this fact.
8. He worked as a telemarketer for a while.
Dave did this for long enough to gain enough money to move into his own apartment after living with his mother for a while to get back on his feet. From that point he started to do what he could to focus on his music and on building a career.
7. Eventually he developed the condition known as stenosis.
Dave has stated that he managed to get stenosis from too much headbanging, which should possibly worry a great deal of rock fans since headbanging was at one time a very popular action to perform. Unfortunately this condition occurs when the wear and tear on the spine begin to affect the nerves and cause pain and gradual weakness in the spine. In short, it's not a fun condition as your spine is simply too important to mess with.
6. Recently he announced that he has been diagnosed with throat cancer.
According to reports from Mark Savage of BBC and many others Dave has already started receiving treatment that has been seen to have a 90% success rate so he's quite positive that he'll be able to navigate this particular challenge, but cancer of any type is something that many people tend to get scared by, and for good reason.
5. He holds a couple of black belts in martial arts.
It seems as though he's proficient in Taekwondo and Ukidokan, which is pretty interesting to tell the truth since it's a question of how many of his fans actually knew this about him. Celebrities are still able to surprise us.
4. If you don't remember he's largely responsible for the creation of Megadeath.
He's listed as a co-founder but he had a lot to do with the band's emergence onto the scene it would seem since he was responsible for getting them all together. A member that wasn't able to stick with the band seems to be responsible for the name however since Dave created a song with that name within the song.
3. His net worth is around $20 million.
Pretty much everything he's earned has come from his music career, so you can imagine how popular this guy has been throughout the years and how far he had to come in order to earn this kind of net worth.
2. Apparently when he was 17 he sold drugs to pay his rent.
This almost feels more like rumor than fact but it's in his bio so it's hard to simply say no to and discredit no matter how much it sounds as though it might be kind of out of left field. But it wouldn't the be the worst thing a person ever did to pay the rent.
1. He's won a fair number of awards throughout his career.
Dave's contributions to music haven't gone unnoticed obviously and to many people he's been nothing short of spectacular for a lot of years now.
Here's hoping his treatments work.