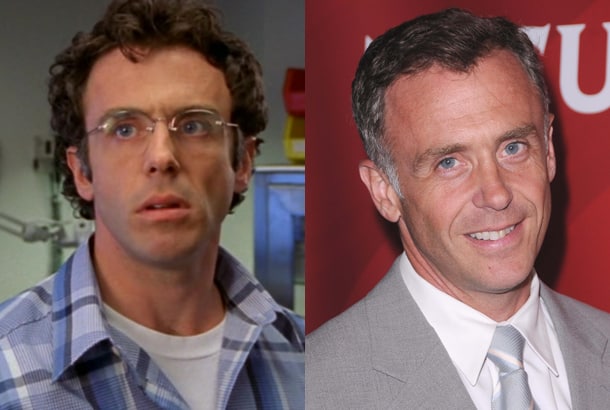 If you are a fan of "Sex and the City," then David Eigenberg must be familiar to you. He is a popular actor who has acted in many films. David navigated around many options before getting to his destination as an actor. When David later decided to follow his passion, he became a good actor, and that was when his successful career began. He is a self-motivated man who has what it takes to be in theater. Although he had a rough beginning, David finally rose to be the epitome of success. Here are some facts about him.
1. He lived in a tough neighborhood when young
When David was young, he lived with his uncle in the Bronx, a place that was not comfortable for him. His uncle was not financially stable and had to struggle a lot to make ends meet. He also came across challenges because drug dealers dominated the place. Cops could regularly beat him with the allegations that he was there to buy drugs. Most of the encounters in the area made him live in fear since he was not sure what was to come next. As he went on with auditions, David worked as a carpenter in construction sites to get some money to cater to his needs. He later moved to East Harlem, a better place.
2. He started acting when he was 12
David's journey in acting began when he was 12. He took a role in a production of "Happy Birthday, Wanda June." When he appeared in the play, he had the dream of being a successful actor one day. He hoped to be part of many other films and hence took the initiative of trying his luck in several auditions. With time, he started catching the attention of many producers and went ahead to become a full-time actor.
3. He wished to be an architect
David wanted to be an architect if the acting career did not turn out well. He says in one interview that he loves architecture, and that could have been his alternative career. David, however, revealed that he was not equal to the task of studying architecture. Looking at the syllabus and seeing the math in it was enough to let David know that he was not cut out for an architectural career. He loves how architects work and what the good buildings that they design, but he is now satisfied with being an admirer of their work.
4. He never had a television for about 20 years
It is ironic that David is now a known television personality but had no TV when he was growing. David's childhood seems to have been full of financial problems. He never had a television for about twenty years, and that is one of the things he lives to remember. When he became passionate about acting, he felt that he must own a television. He later bought one TV, despite finding it to be very expensive. After getting his first television, he realized that it did not come with cable, and it became useless to him. When he finally made money for being in the cast of "Sex and the City," he got himself a good television.
5. Served in the Marines after graduating from high school
According to Information Cradle, David joined the Marines in 1982 after graduating from high school. The Marines listed him successfully after he showed interest in joining them. Serving in the Marines did not become his full-time job since David stayed there for only three years. At the time when he was leaving, he was in the rank of Lance Corporal. After leaving the Marines, he went to New York to explore his acting career further. Things worked out for him in acting, and that became his lifetime career.
6. He is married
David is a family man after marrying Chrysti Eigenberg in 2002. The love between the two was love at first sight since David met Chrysti while she was serving at the army, and sparks flew immediately. Without wasting time, the two exposed what their hearts felt and started dating. The two seem to be enjoying their married life since David frequently posts pictures with his wife on his Instagram. The couple has two children; Louie Steven, their son, who was born in 2009, and the daughter, Myrna Belle, who was born in 2014.
7. He is the only boy in a family of six
David brags of being the only boy in a family of six. He was born to Harry Eigenberg, who was an accountant and Beverly Eigenberg, who owns some schools. Beverly and Harry had six children, with David being the only boy. His parents were of different religions; his father was a Jew while his mother was of the Episcopalian faith. When he was young, he inclined himself to the religious beliefs of his mother.
8. He was suspended from college when he was a freshman
According to the TV guide, David was kicked out of college when he was a freshman. He was five weeks old in the college. The reasons behind his suspension remain unknown to us, but it probably could be due to discipline issues within the college.
9. He played football while in high school
David enjoyed playing football while in high school and was in the central team. He was among the best players of soccer in the school and represented the school in various competitions. He never missed training for the team, and the coach was always happy with him. One of his high school teammates later became the coach of New Orleans Saint. His love for the game continues to this day; hence, when David is not acting, he enjoys playing soccer.
10. His Net Worth is $6 million
The acting career has been a goldmine for David, whose net worth is $6 million. With his lucrative income, he has a lavish lifestyle proven by the cars he drives and the houses he owns; his home in Illinois is very classy. Apart from acting, he is also a product endorser for several companies.