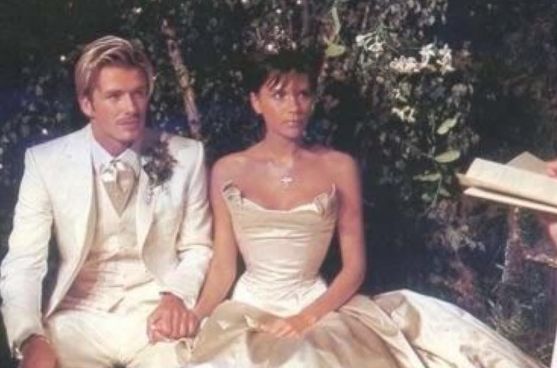 With all of the failed relationships that exist in the celebrity realm, it's hard to believe it's been nearly 18 years and 4 children and the duo of David Beckham and Victoria Beckham is still going strong.   In a recent interview David Beckham had a chance to gush about his bride, their relationship, family, and also revealed that since their initial marriage in 1999 the two have renewed their vows in an intimate ceremony since then.
We did throw a lot at [the wedding]' he said. 'We have renewed our vows since then and it was a lot more private, there was about six people in our house. Whenever we've come up against tough times, we know each other better than anybody knows us so we talk. Do we stay together because it's a brand? Of course not. We stay together because we love each other. We stay together because we have four amazing children. Of course we go through tough times. [But] when we go through tough times we work through it as a unit, as a family.'
There's gotta be more to this right?  Over 50% of marriages end in divorce and in Hollywood that number has to be twice as high right?  Perhaps the Beckham's have the best four children on the planet.  Maybe their love is just so strong that nothing can touch it.  But being able to work through being that famous, that good looking, and that wealthy, it's truly miraculous that the couple is still together.  Now that they're more mature and have been parents for a very long time, it seems as though these two can get through anything together.
Here's wishing them a happy anniversary and even lengthier marriage.
Beckham had this photo to share on Instagram