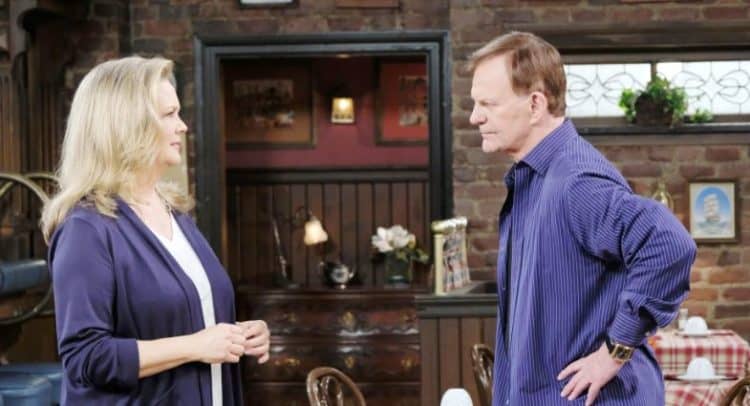 Days of Our Lives fans were not surprised when Brady finally gathered up the courage to share with Eric that he's made the decision to get back together with Nicole. This is only months after the fact that she accused Eric of being the one to kill her baby who died in a van crash. She left her baby to him to keep safe and happy, and he didn't do that because Chloe came in and took the baby for herself. Then she got involved with the awful Stefan and that baby became too accessible to those around her. That was a horrible moment for Eric, and it's on that he did not see coming. Well, if we are being totally honest, nothing about her return from the dead was something we saw coming. However, we do know that there is a great deal of stuff going on in his life that makes him feel as if he is not good enough for her.
Now that she's back, and yet no one seems to know that she is not yet who she seems to be. She is not Nicole. She is Kristin. She is doing all of this to make everyone miserable, and she's gotten out of control. She is tricking Brady because that is what she wants, and she knows he will never be with her if he knows she is Kristin. This is ugly. It was not easy for Brady to tell Eric the truth, but he doesn't care enough about Eric's feelings to really care that much. This is evidenced by the fact that he literally didn't even think about Eric's feelings when he decided to get together with her in the first place. It's not something we wanted to see happen, but we are ready to admit that they have no hope.
What's Happening on Days of Our Lives
With the beautiful Kristian. At Days creating magical times. #Days #NBC #love #magic #vets #forever @kristianalfonso pic.twitter.com/gF5qnKs2vi

— Thaao Penghlis (@ThaaoPenghlis) August 16, 2019
We love these photos.
What's Next on Days of Our Lives
John & Marlena's 33rd Anniversary Party takes some unexpected turns. Watch #DAYS, weekdays on NBC. pic.twitter.com/TPLnAvXvl0

— Days of our Lives (@nbcdays) August 16, 2019
It seems that we are finally figuring things out as we go, and that's a good thing. We cannot always figure them out as they seem, but it is a thing that we are working with in the moment. Kristin is finally going to get caught. One, because it appears that Gabi is on to what she is up to and what she has planned. That's good news for fans who do not want to see this woman take over the world and make us all miserable more than we need to be. But, it is also great news for those of us who do feel that there are more things to life than what is going on. She's going to see things for what they are, but that might mean she's going to find herself in danger. Fortunately, Gabi is not the only one who feels that she is aware of what is going on.
It seems that Will might suspect that Kristin is alive and there might be a thing. There might be a bit more than what we see coming, and it might be a bit more than we can handle. There is a lot we can do and see in life, but this might be something that he sees before his husband. He will mention this to Sonny, and that might affect him in a way that makes us all feel crazed by his life. We don't know for certain, but it's a small feat. It's not going well, and it's not ending on that note.
Stay tuned for more Days of Our Lives and be sure to check out TVOvermind daily for the latest Days of Our Lives spoilers, news, and updates.