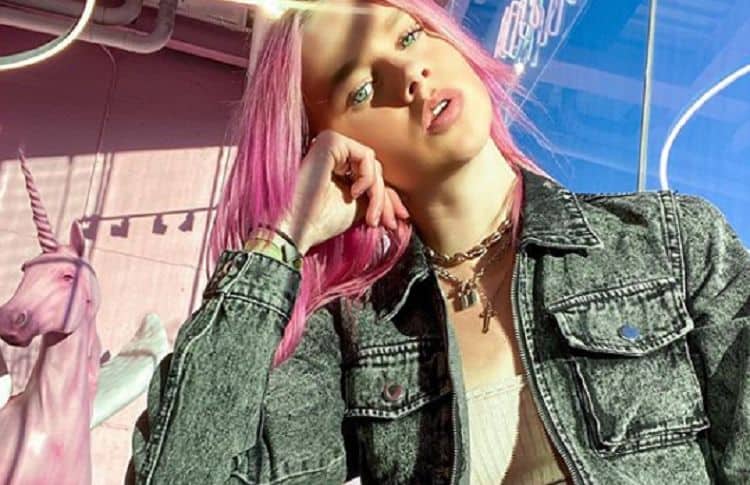 If there's one thing social media can't survive without, it's content. After all, people need something to look at when they're scrolling through their timelines for hours on end, right? Fortunately, thanks to TikTokers like Dayna Marie, there won't be any shortage on content any time soon. In just about a year, the 19-year-old Internet star has built a TikTok following of of nearly 4 million people. Her videos have garnered more than 132 million total views and her numbers just keep climbing. She has become well-known for her comedic videos and she often collaborates without TikTokers. Keep reading for 10 things you didn't know about Dayna Marie.
1. She Deleted Her Instagram
Most people who are popular on TikTok are also popular on Instagram. While Dayna did have a large following on Instagram, she has since deactivated her account. There doesn't seem to be a clear reason why she'd decided to abandon IG, but there's a good chance she'll come back eventually.
2. She's Also Popular On YouTube
Dayna may not be on Instagram anymore, but her YouTube platform is still flourishing. Although TikTok is great for short videos, it's not designed for long videos, which is where YouTube comes in handy. She uploads videos on YouTube regularly and has more than 96,000 subscribers.
3. She's Been Posting Videos On The Internet For Years
Although her TikTok popularity is relatively new, Dayna definitely isn't new to uploading videos on the Internet. She has always been passionate about making videos and recording moments. She began uploading videos on YouTube back in 2015. At that point, her content mostly consisted of random teenage adventures.
4. She's Canadian
Dayna Marie has been living in the United States for a while not, but she was actually born and raised in Canada. Even though she has a huge social media presence and posts content on a regular basis, she isn't the type of person who likes to reveal lots of details about her personal life.
5. She's A Brand Ambassador
If you're not really into social media, it can be easy to think that having lots of followers is nothing more than a popularity contest. However, that isn't necessarily true. Having a large number of followers can actually become a business opportunity, which is what has happened for Dayna. Since building her online persona, she had had the opportunity to work with several companies as a brand ambassador.
6. She Had A Falling Out With Kouvr Annon
Things aren't always pretty in the TikTok world, and that's something Dayna has unfortunately had to experience first hand. She and former friend and fellow TikToker, Kouvr Annon, had a big falling out that resulted in some bad blood between Dayna, Kouvr, and Kouvr's boyfriend, Alex. In a video on her YouTube channel, Dayna explained the situation in detail and expressed how hurt she was by how things went down.
7. She's Adventurous
Dayna's vibrant personality isn't just a facade for social media. She loves to live her life to the fullest and enjoys going on all sorts of adventures. Dayna isn't afraid to take a risk and she really appreciates a good adrenaline rush. She loves to do things like go cliff jumping and diving
8. She's Lived In Hawaii
About a year ago, Dayna decided that she wanted to move to Hawaii. She didn't go into much detail about the reasoning behind her decision, but the fact that Hawaii is beautiful is a good enough reason. The move to Hawaii was the first time she'd lived away from her parents, and it was an emotional experience. While there, she shared an apartment with Kouvr Annon, and that's when things started to get bad between them.
9. She Loves A Good Prank
If you've ever seen Dayna's TikTok videos, you know that she definitely has a sense of humor, and that isn't lost on her YouTube content. Prank videos are very popular on YouTube, and Dayna loves to get in on the fun. She likes to do all sorts of prank videos and she's become quite good at pulling them off.
10. She's All About Positive Vibes
At the end of the day, Dayna is just passionate about spreading good vibes and making people smile. Although she's had some ups and downs since becoming a social media influencer, she still continues to create content that people can laugh at and enjoy no matter what they're going through.