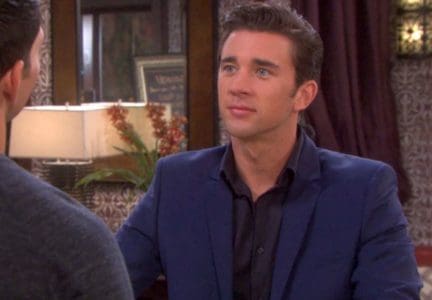 Days of Our Lives fans want to know what might happen with Chad. Everyone is so worried about him right now that they've all uprooted their lives, began working with people they don't like, and they're all on their way to Greece to stop him from making a terrible mistake. He's going to get an amulet he knows that Deimos wants. He knows it's dangerous, and he knows the history of this amulet could cause him more harm than good, and he doesn't seem to care. He's not even worried that his brother, Andre, and Andre's arch nemesis Hope are so worried they've agreed to put aside their differences to work together to make sure Chad is all right.
This is tragic news all the way around, but there is nothing that will stop Chad. He's going to get it, and things will go downhill from there. He's going to lie to his brother and to Hope about the situation. He'll tell them he didn't go for it, he didn't get it, and that he changed his mind. They have no idea he's got the amulet on his person right this moment, and we all know it's going to come back and haunt him in a major way. He's got some serious issues to work out right now, and he's not about to let anyone get in his way of making life go his own way for once.
As for everyone else, there is a chance they might believe he didn't get it, but we suspect Gabi will suspect otherwise. She's a smart woman, and she knows how unhappy Chad is at the moment since his wife left him, she decided not to date him, and he's been left all alone. Will she speak up to someone about what she suspects? If she doesn't, there's always a chance that Deimos might find out and try to kill Chad. He's already a big fan of doing that anyway, and any chance he has he will undoubtedly take if it's offered to him. Is this the beginning of the end for Chad?