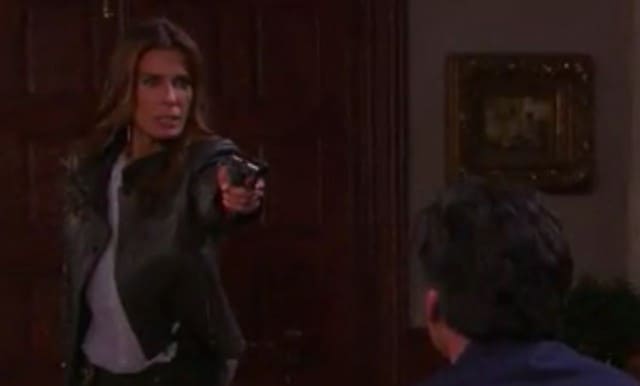 Monday on an all-new Days of Our Lives, everyone is in a bit of a recovery mode. Eric has gone to jail, and everyone is missing him. They're still reeling from the fact that he is actually no longer around, and the effects are rippling through the community. It's a rough day for most people around here, but nowhere near as rough for anyone else as it is for Hope. She's been worried about Andre for some time. He is out to kill her and to get her because she killed his father, and he's in jail. She's been feeling safe that he's behind bars, but it seems that he has not forgotten about her and that he is not worried about his freedom once he is finally released.
In fact, he takes the time to contact her from jail on Monday to issue a threat that makes her world turn upside down. She knows he is furious, but she was hoping that being in jail would make him feel that he never wants to return once he actually got out. She thought maybe he might hold onto his anger and that he might always hate her, but she thought he'd value his freedom and avoid any risk of ever going back when he was finally released. It turns out, he doesn't seem to care. He calls her from jail to tell her that once he finally gets out, she better watch her back.
Andre is out to kill Hope, and he has no problem killing Rafe once he's free, either. Of course, she is now terrified and it seems that this might put a further damper on her relationship with Rafe now that she is worried that being too close to him might put his life in danger. Will this change the way their relationship is heading? He's already confessed he loves her, and now this? Additionally, how will Hope feel knowing her life is in danger sometime in the future while she's still trying to deal with the fact that her daughter was raped by her step-brother? It's a mess for Hope right now.