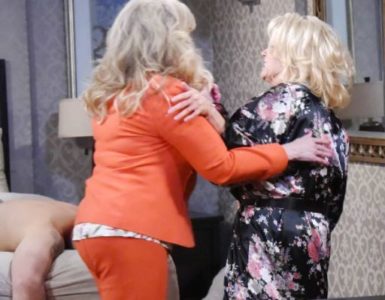 Days of Our Lives Spoilers are going to shock you this week. We told you over the weekend someone was going to die this week, and that someone is Anjelica. We thought there might be a chance someone killed her. She's not exactly anyone's best friend, after all. She's not an entirely nice person with a loving heart and a lot of friends. She's the woman who has managed to find two other women who look just like two women she doesn't like to kidnap them, hide them, and take over their lives.
She's kind of a mean girl minus the kind-of part of all of it. And she's going to die. The deal is it won't be nearly as dramatic as we all want it to be. She's not going to have some sort of major meltdown where someone shoots her or pushes her off a cliff. She's going to get into a physical altercation with someone who — gasp — doesn't like her, and she's going to have a heart attack.
That's right, fans. She's going to die of natural causes. And we are okay with that. It might be a bit anti-climactic, but it's fine. We can't wait to see how this is going to go and what it means for everyone, and we know it will mean some more bad news for the two ladies missing and hoping the loves of their lives will realize it's not them wreaking so much havoc in Salem. Of course, that might take a while.