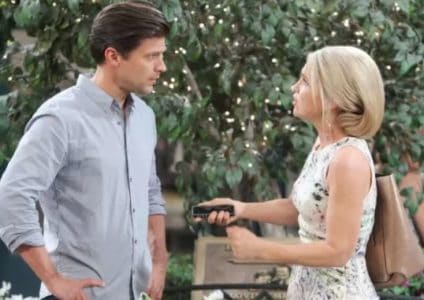 Days of Our Lives spoilers tell us that Jennifer and Eric are going to spend some time deciding they want to try again to make things work between them. They have tried the dating thing in the past, but the whole thing where he went to jail put a little bit of a wrench in their plans. After all, it's difficult for them to date when he's behind bars. Now he's out and he's finally learning to live with himself, and things are changing rapidly in his world. He might not have a chance to do what he wants to do, but he has a chance to try and change his life.
The other good news is that Nicole is going to get her daughter back. Chloe has decided to leave Salem, and she wants to see her old friend with the daughter that belongs to her. She sees how much Nicole loves this baby and wants to keep her safe, and she no longer wants to interfere with this. It's the end of the road for Chloe on the show, but it's also the end for Nicole.
We don't know what she might plan now that she's about to leave for good in terms of her contract, but we suspect she's going to decide this is not the place she wants to raise her baby and she'll leave. That will probably be her big exit, and it might make fans happy to see her go with such a happy ending in sight.