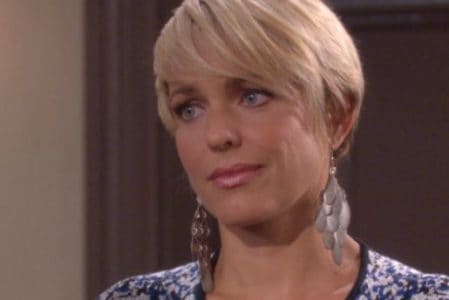 Days of Our Lives fans are excited to see that this is the week that Nicole is going to open up and tell Eric she's absolutely in love with him. We want to see her happy after all the time she's spent miserable since he was a drunk driver who killed her fiancé, but we also know this is going to be her personal downfall. She's left Brady to be with Eric, and he's not happy about it. He's so hurt he's going to do something stupid that is going to cost her everything she's ever wanted in life — her daughter. He will turn her in for killing Deimos.
She won't get to keep her daughter, and she certainly won't get to be with Eric. It's not going to end well for her, but we know she wants him to know how she feels. This is the week when they submit to their feelings and finally make it official. And we think it's all Eric has ever wanted to hear in his life. She's going to want to make a future with him, and he will agree.
But how long can they hide this from Brady? How long until he finds out that the woman he loves is with someone else and making a future with him? It's going to be a very ugly situation when he finally realizes all that's going on, and we can't help but feel sorry for them in advance. It's going to be ugly for all.