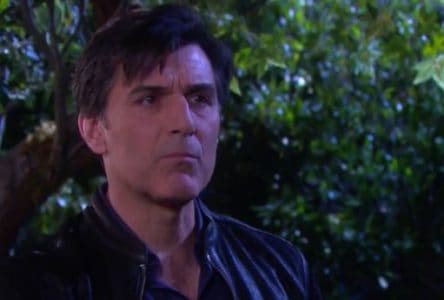 Days of Our Lives spoilers have been telling us for a week that Deimos is not happy with Sonny. It turns out that Victor has made the decision to hand over the reigns at Titan to Sonny, and Deimos is less than thrilled. It's his company, his position, and his role. So he's going to do what any other madman might do, and he's going to go ahead and drug everyone to get back at Sonny.
He's doing this at a party. He's going to spike the party with Halo. It's a powerful drug as we all saw when it was forced on Lani a few weeks ago. It's nothing to mess with, and it's going to cause some serious issues when it comes down to it. Can this group of people manage to stay alive after this? Will they be able to make it out of this party?
And what does Deimos hope to accomplish by poisoning everyone? Is his hope to frame Sonny for it, or kill him? We don't know, but we do know this is the beginning of the end for Deimos. We suspect that his final days will be spent in peril, and we do think he might be killed. We know the actor is done with the show as per his contract, but will he die, go to jail, or leave without a trace? There's always a chance he could do any of that and show back up in a few years to wreak more havoc on the people of Salem.