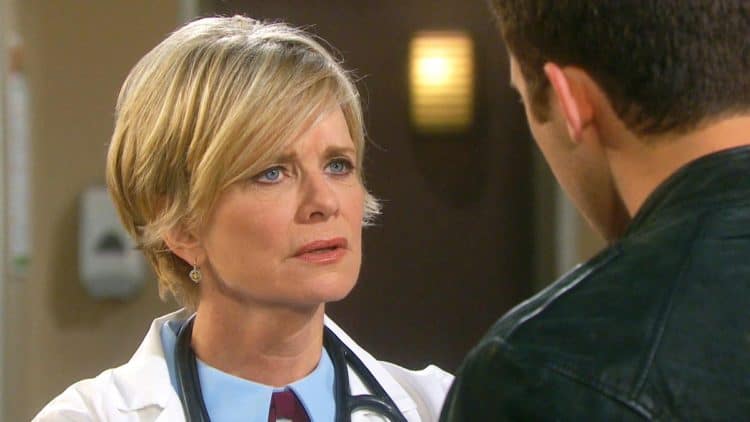 Days of Our Lives fans are fortunate to continue to see episodes that are fresh and new throughout the COVID-19 pandemic. It's shot eight months in advance, so there are months of new episodes for you to enjoy. Other soaps, however, are not that fortunate. General Hospital fans just recently ended their new episode arc and are now joining the ranks of CBS soaps with theme weeks. Bold and the Beautiful fans were loving this theme week as it took us back in time when we got to see some of the biggest celebrities to take on a role in LA. Using that as inspiration, we want to go back in time and see whose famous faces were part of the Salem world at one point or another. Some of these celebrities were on the show for a while, some got their big break here, and some just showed up for a moment or two to gain some audience attention — and it worked.
Kathie Lee Gifford
You know her as a famous television newscaster who has her own morning show on the Today Show, but she was once part of the cast of Salemites who had nothing but trouble to cause. She came onto the show for a hot second more than 42 years ago, and fans remember this. She was here around 1978 when she played Nurse Callahan, and people loved her.
Pamela Anderson
She didn't get her big break here because she was already famous. But, she did get to play a quick role in 1992. She was Cindy. She came into the show with her gorgeous face and perfect body, fans loved her and couldn't wait to see more of her, and it was a good move because her star was rising quickly at the time.
Barry Watson
Remember him from Seventh Heaven? The eldest of the children in the family whose father was a minister and whose mother was working hard to take care of all of their seven kids? well, he came into Salem for a moment back in 1990 She played a man by the name of Randy.
Mila Kunis
Anytime we get to talk about this very famous star and her time on the show, we get so excited. She is one of our favorite celebrities, and she's had a huge career so far. She's currently working, living her life as a mother, and enjoying her time with her husband, a former co-star of hers from her "That 70s Show," days, Ashton Kutcher. However, when she was younger, she was cast to play Hope. Not forever or for good, but the show needed some flashbacks of her when she was younger, so they hired Kunis to take on the role. She spent some time in 1994 playing flashback roles of Hope when she was a child. That is nothing we remember, nothing we would have even recognized at the time, but something we love to talk about now.
Tara Reid
She's a hot mess, and that's kind of what makes her famous. She's been in a few movies, but she's always in some sort of dramatic situation in trouble for something. But, she's always been a hot mess we've enjoyed watching. Whatever she's got going on in her life is her business, but we loved seeing her when she was working more regularly. Back in 1995, back when she was just growing more and more famous, she was on the show for an entire five episodes playing a character by the name of Ashley.
Kyle Richards
She's a famous child star turned real housewife in Beverly Hills, but that doesn't mean she didn't have some work to do when she was older. She was already very famous (as she should be — she's part of the Richards family and she's the sister of Kathy Hilton and aunt to Paris Hilton) when she took on this quick role. She was around for three episodes in 2013. She was Casey McGraw, and we are actually a little bit surprised the show didn't want to keep her on a little longer than this. She was so good at what she did, and we liked what she brought.