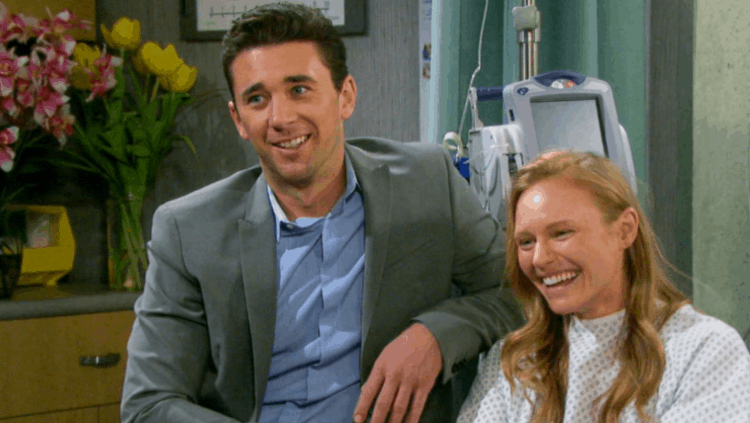 Days of Our Lives fans know a thing or two about people departing the show, and that's only because it's the way the game is played. It's still early in the year, but 2019 has been filled with people leaving already, and it's been kind of sad. Some of the people who left weren't big names, and they didn't have big roles. On the other hand, though, some of them have been big names and have made themselves so prominent in this daytime television show that it's going to be difficult to see them go. Some of them are being replaced, and some we don't know about. However, we do know that there are a few things we need to discuss, and that's who we are already missing since they've announced their departure and their time to go.
Chad and Abby
We love them so much, and we are crushed to see them leave. They are both staples in the world of Salem, but it was their time to go. Our hearts first hurt when it was Kate Mansi who made the decision to leave the role of Abigail more than a year ago. Fortunately, Marci Miller, the actress who replaced her, was so good at the role that we fell instantly in love with her. We think it's safe to say that is not something that happens all too often, so it was nice for it to happen this time. So, when she announced that she was not going to stick around less than a year after her own entrance into the role, we were just crushed again. And then, when the show announced, that Kate Mansi agreed to come back and reprise her original role, our sadness left us.
But then the show told us it was only for a moment and that when she was done taking over the last few months of the role, she would leave and she would take Chad with her. Billy Flynn is amazing, and we do miss him. They had to go, though. Their lives were full of so many horrible things happening to them and their family, and it was time for them to take their two kids and get out of Salem to find some peace and happiness. It left the door wide open for them to come back at some point with a newly happy family – maybe even another baby or one on the way? – and really be present when they are back. The show wrote them out spectacularly, and we cannot be more grateful for that. They are, however, very missed.
The Original Stefan DiMera
So, Brandon Barash is not a stranger to the world of Soaps, but he's not Tyler Christopher, either. We thought he did a stellar job of laying this new character who came to town for the sole purpose of making everyone miserable enough to hate their lives, and we also think his replacement will be just fine. But he is a spectacular kind of person who does a role that is more than just a little bit good. And we hope that we are right. But, we think we can all agree that no matter how amazing Tyler Christopher was in this role, there is nothing that suits him more than being Nikolas Cassadine on General Hospital. And we hope he left to reprise that role.
Leo
Greg Rikaart is a man who is missed everywhere he goes. When he left Genoa City last year as Kevin, we all missed him so much. Then he was Leo, who is just a perfectly awful, horrible, hate-filled man who we all love to hate, and now that we know he's done filming and will not be back, we miss him. He's so good at what he does, and it makes it hard for us to say goodbye to his personal brand of genius in the acting field. We think that he might return to Young and the Restless at some point, and we would not be upset by that in the least. He is someone who is not going to end his career just because he left this show, but that doesn't mean we can wait to see him again.