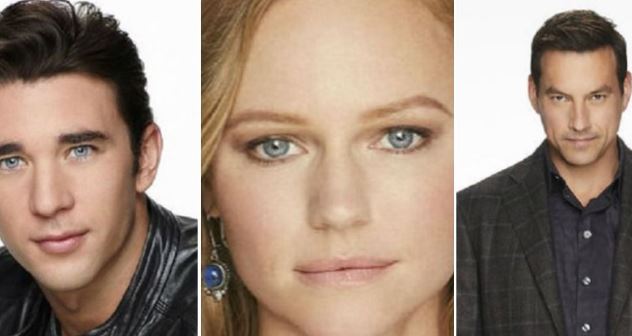 Days of Our Lives fans know that there are sometimes a lot of love situations that go bad. In fact, most situations regarding love on this show go bad. People can't seem to get it together. They don't tell the truth. They lie to one another. They make up stories, they hide things, and they are not a team. In fact, if these people in Salem can teach us anything about love, it's what not to do and how not working as a team can hinder your relationship in a way you don't even want to know about. But what it really means is that there are more than a few bumps in the road for everyone. While we all want couples to live happily ever after around here, we can all admit when sometimes a couple is a much better set of friends than anything else – and that's precisely what these couples are. They are better off as friends, even if they keep making it happen over and over again.
Jennifer and Eric
We all know that they are not together right now. He just lost Nicole, and she's gone. He's beyond upset and hurt over it all, and he's probably not bouncing back anytime in the near future. However, he is going to find that his life is a much better situation than we thought possible in the first place – and we cannot wait to find out what happens with them in the near future. We want to see them work it out as friends, but he's upset with his life right now. They certainly don't belong together by any means, but they do have a soft spot for one another that might just make us all feel good about our lives. We think they make a great set of best friends, but they do not make the best couple.
Lucas and Sami
They have a child together. They have a very good friendship with one another, but they do not have a good love connection. They do not have what it takes to be a long-lasting couple with one another. They don't work. They don't make it seem like they are truly in love. She's stuck on EJ, and that's obvious to no end. We love both of them in every capacity, but we don't love them together. They made it a long time as they were, but they just don't have the spark or the chemistry or anything of that nature. However, they do work together, and they do work well as a team. We love the friendship that they have, how they can always help one another, and how they always seem to make things work for themselves. But they need to keep it as a friendship and just let it go.
Chad and Abigail
Okay, so we know that they have a baby together. And they are going to have another baby together. That said, we just don't love them as a couple. We like them a lot better than, say, Chad and Gabi, but we don't like them in any other capacity. What we do appreciate about them is the fact that they don't have much else to say to one another that isn't nice. They are very respectful of one another, but there doesn't appear to be any passion or real connection. They are always in the middle of a divorce or some other situation that makes them turn their backs on one another and their marriage.
This is not to be confused with their friendship. They are nothing if not great friends. They might always work together as a married couple or even act as though they want to be married, but they always put one another first and always have one another's back. They are that kind of couple in every capacity. They have what they need for one another, and they have to deal with that. But we like them better as friends. If they ended their marriage, we assume they would always be number one with one another because of their baby – and the baby that she's having that they don't know yet does belong to him after all.