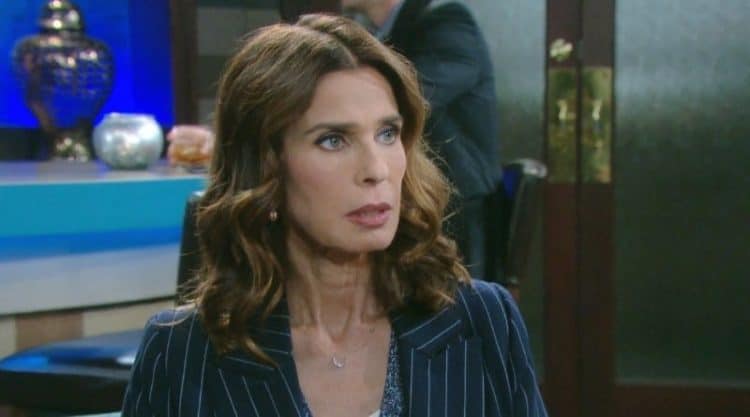 Days of Our Lives fans are not happy to see that Hope is currently being taken over by Princess Gina. It's true that Hope might have become a little bit boring in the last year or so, but not so much that we don't still love her all the while. She's someone who brings us a lot of joy and happiness, but she's also someone who has a lot more to offer than meets the eye. She's going to be someone who comes back and finds that things did not go well in her absence, but we also thought that we might discuss why she's changed so much in the past year. We think that her past relationships have gotten to her, brought her down, and made her question who she is. This might be why she was not herself for so long, and it might mean that she has to move on. Her most impactful relationships did change her, and we think these are the ones.
Bo Brady
He is the one true love of her life, though she's been happy with other men since. She was through so many things with this man, who was her husband and the father of her kids for so long. She loved him more than anyone else in the world, but she didn't end up being as good to him as she thought she might be. She was a woman who was not always herself, and she was a woman who did not always make things work in her favor. She had a lot of ups and downs with this man, and she lost him more than once. They might have been a super couple at one time, but they hurt one another more than they could count. They were together, then they were not, then they were, and they never knew what the future might hold for them. They were the kind of people who were always in a place with one another that did not work out well, and they were always looking to right things. But, he died, and she was left alone, and things were horrible for her. His death affected her in ways that nothing else in her life ever affected her, and she still struggles for it.
Stefano
Their relationship was not part of her life and what she wanted, but rather part of what he wanted. He wanted to do something with the real memories of Princess Gina, and he had them inserted into her brain so that he could use to her do things for himself. He loved her in his weird and strange way, but she never felt the same as Hope. She only felt that way when she was the Princess, and he used her all the time to get things to work out for himself, and that included having her kidnap John, spend the night with him, and then turn around and spend the same night with Stefano himself. She was not ever herself when she was with him, and he might have had some of the biggest impact on her life seeing as how he is the man who made her turn into Princess Gina against her will.
Rafe
She did love him. It might not be the same passionate love she felt for Bo. It might not be the same kind of all-consuming love that she shared with Bo. It might be the same forever love that she had with him, but she did love him. They were good together. He did care for her so much, and we even assume that they could have made things work for them. What we did like about them was that he always worked so hard to keep things safe and calm in her life. She needed that after all that happened to her in the past, and he did a good job of that. But, ultimately, she couldn't keep herself together with her paranoia and the many horrible things she thought might happen, and it did not work out. We do not think that they are done yet, but we do think that they need more time to figure things out.