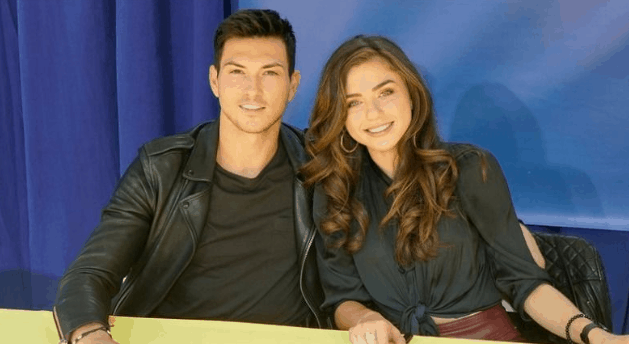 Days of Our Lives fans are all wondering what is going on with so many things, and we are going to break those down this week. We also have more questions than answers about the many things going on around here, and we are here to answer those for you this week. We are going to start with Ciara and Ben. They have more problems than they do anything else, and we cannot decide if he can make the major change he needs to make to ensure that she stays with him. Is there a good chance he can do it, or are we looking at another failed situation? Let's find out.
He is Different
There were so many years in which h was a total mess and no one could figure out what to do with him. He was a killer. He took lives. He tortured and made miserable some of the people in his life. He was a man who was not going to have his own way with anything other than his life with Abigail. He wanted her, and he was not going to stop until he got her. There was nothing there that made sense to us, but he was dead set on having her all to himself.
But, since he is back, he is not the same man. He came back a changed man, and we cannot help but wonder if it has anything to do with him or with the meds he's taking. We hate to see him fall back into his old habits, but we do love to see that he might be able to get his situation together. He's been taking meds, and we can only hope that they will work.
He Wants To Change
The other thing that makes us feel as if he is really going to change and do the right thing is that he wants to do it. He seems to be very much in love with Ciara, and that means he has to focus on keeping her. He has to focus on things like that because he loves her, and he wants to spend more time with her. If he doesn't want to change, he wouldn't. But, the fact that he has these feelings for her makes us wonder if he really does want to keep her the way that he feels he wants to keep her. She's someone he loves, and he seems to want to keep it that way. We hope he can, but we don't know if that is entirely possible in this situation.
Ciara Supports Him
One more clue that he is really a changed man who might be able to make this work is the fact that he has a support system. Ciara appears to be there for him in more ways than one, and that is one thing that makes them feel good about the way things are going. They are a good team, and they are a good partnership. They have something that many people don't have, which is support and honesty with one another. That's a strong combination.
She supports him. She encourages him, and she wants to be sure she can make this work. She can do it, but she does have to focus on that more than she focuses on anything or anyone else. She cannot handle things changing if she's not careful, but she can handle them if she focuses.
His Sister is Back
She might be just as crazy as he is sometimes, but she is back. Jordan came to town and tried to hurt him and make his life miserable, and he did not allow her to win. He got to see her firsthand, and he got to see how he once behaved. He didn't like it, and that might be a thing that works well for him to see. He also has a new nephew now, and we feel that he might eventually want to take that baby and make him his own child to care for if his sister is unable to do it. There is so much he can do, but only if he puts forth the effort to make it happen.