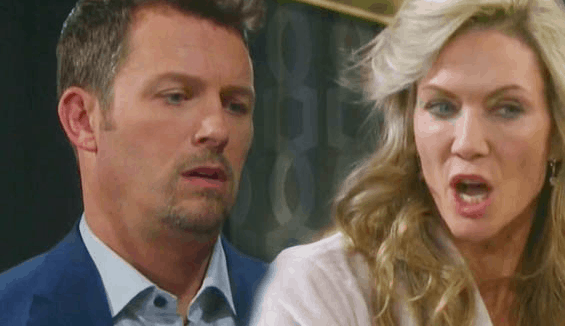 Days of Our Lives fans have a lot of questions they want answered about a variety of things, and those things often include the many things going on inside the show. There are things we don't know. Things we don't want to know, and things that we are so curious to know about many things. We cannot handle what is going on around here, and we cannot wait to see how things will go in other ways. We are excited about what is going on in the show most days, but there are still a lot of questions we'd like to have some answers to. There's not much we don't know, but there is always so much more we do want to know. For example, this list of questions is one that we have been curious about for a long time, but we don't seem to have the exact answers we are looking for. We want to know.
Where Are Sami's Kids?
We get some vague answers about them every so often. They're here and there and doing this and that, but they don't have a father anymore, and there is nothing else that seems to work for us in terms of what they are up to. But, we also know that there are more things to consider when it comes to this family and what they are up to. We do know, for example, that we have kids in California without a parent to watch over them when she's in town doing her deeds. She came back to handle her son when he was found alive after years of assuming Will was dead, and where were her kids? They were in California, but what were they doing and how were they doing it? Who was with them taking care of them, and why are they never around anymore? It's a thing we just have to sit back and continue to wonder, because we really don't have the answers.
What Happened to Mike?
He was one of the most important characters of his time in the Horton family, but he's just gone and done and there's not much left of him at this point. He's been gone for a long time, and we get that he's not the kind of man who just disappears. But, we do know that he left, he went to another country, and then he rolled on up again without much fanfare in a different light. He's been gone a while now, and he came back about a decade ago without so much fanfare as he did right now. He's been gone, there are not questions about him that have been answered in any real time, and he's just the kind of man who seems to have disappeared off the face of the earth without any real explanation. We don't get it.
Peter Blake and His Prison Sentence
When he was sent to prison a while ago, we thought he might come out and show up with some big time situations on his hands. We thought that he might have a small prison sentence since his father, Stefano, was able to get him into a small prison with a parole hearing not too long after he was sent in there, but that didn't seem to happen. We aren't sure where this is going or what this meant for him, but he did have something of a situation on his hands when it did occur. He ended up without much fanfare after he went to prison all because of Kristen DiMera, but he also never got out. That was 11 years ago, and we have some serious questions about all of it.
Is Stefano Alive?
We know that the great actor who played this character from the start passed away in real life a few years ago, and he will not return. We also know that he is not the kind of man who will ever return as a different person, but we still want to know if the character is alive and in hiding somewhere. Or, did he truly die the last time we saw him. He won't be back, of course, but we want to know the answer to the question.