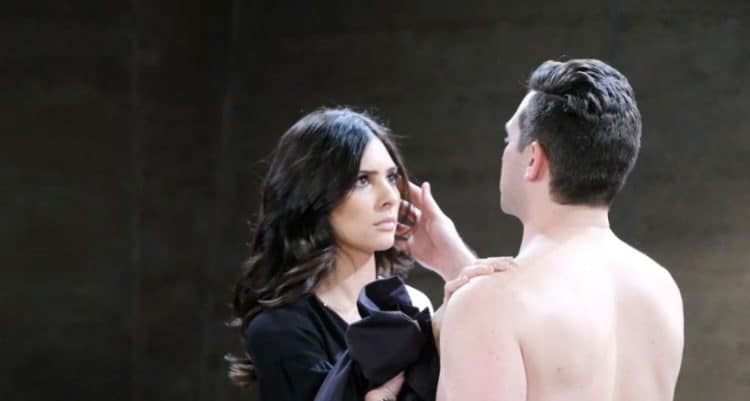 Days of Our Lives fans aren't sure what to expect when it comes to the things going on in their lives, and it's because it's all kinds of crazy. For one, we saw that Tony asked his wife, Nicole, for a divorce. It's a fake divorce to go with their fake marriage, and it's all for show. They've had a big fight, things are not working out in their favor, and everyone and everything is a mess at this point. We cannot handle it, and that's all there is to it. We are so excited for so many things, though. WE also saw that Roman is going along with Anna's plan, but not because he wants to. He's going along with it because he doesn't feel that he has a choice in the matter. He's going along with it because he's living his life the way he feels he has to do things.
John and Marlena had a very private moment in which they were celebrating a few things going on in their own lives, and they are having a moment because of it. Their celebration is very important to them, and we get it. They are a couple who is ready to finally get started on their lives the best way that they know how to, and they are looking forward to a few things that they can do as a couple together. They have so many things to live for and love in their lives, and this is it for them. They are good to go, but there was a surprise guest that came along to surprise them. It was a moment we don't think they will forget now that they are perfectly well aware of the fac that there is nothing about this that will not bring them down.
What's Happening on Days of Our Lives
#Cinvestigators… The best of the best when it comes to solving Salem's toughest mysteries & crimes! #TeamCin #Cin #Days pic.twitter.com/ARMYbkDxCq

— Melanie Pruitt (@CinfullyTeamRSW) August 19, 2019
We love this.
What's Next on Days of Our Lives
John & Marlena's 33rd Anniversary Party takes some unexpected turns. Watch #DAYS, weekdays on NBC. pic.twitter.com/TPLnAvXvl0

— Days of our Lives (@nbcdays) August 16, 2019
John and Marlena just want to celebrate. They want to celebrate their anniversary, because we all know their wedding wasn't the best day ever considering Kristin came in and shot Marlena and all the problems came about after that. But, they want to celebrate today. It's their second chance and it's the moment they've been waiting for. They are so good together, and we want to see this happen. Of course, they've already had some strange encounters this week with Nicole, and that's left them both a little shaken. And they've been in some strange places with her, but they were not aware that it was what it was. They did not know that she was really Kristin. But now they know. And, it turns out she's found yet another way to ruin things for them.
She's back, and her secret is out. Their anniversary party, a day in which they should be happy and celebrating and on top of the world, has become a day of horror, worry and sadness. Her secret is out, and everyone knows she is alive. We assume this will also be the day that they learn she is not Nicole, either. But, we don't know. We can imagine that Eric will find this kind of satisfying considering what is happening in their lives with Brady and Nicole, but what will that mean for the real Nicole? We don't know, but we can only imagine how things might play out in the moment. They might just have something going on that will change the game.
Stay tuned for more Days of Our Lives and be sure to check out TVOvermind daily for the latest Days of Our Lives spoilers, news, and updates.