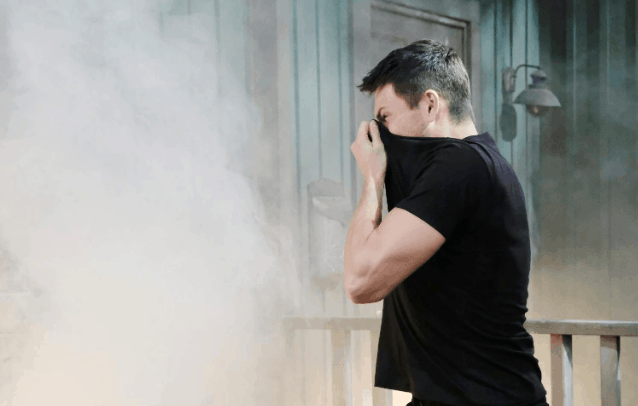 Days of Our Lives fans know that Ben has a bad habit. His habit is bad enough that it always lands him in trouble. He's in the wrong place at the wrong time – always. He never has it in his mind to stay where he needs to be, to keep himself out of trouble, or to work with what he has. Once again, we saw him in the wrong place. The cabin is one fire – and how many times can that thing be on fire and still be standing? – and he's there to see it. He's going to end up in trouble for this one, too, because why wouldn't he? But, the problem is that he cannot save everyone, all the time, even if that's how he feels he can work through his life. Meanwhile, we also know that Tripp and Haley are in a dangerous situation, and there is very little we can do other than sit here and wonder if they can get out of it. Is there a chance they can move on?
Otherwise, we are just sitting here wondering what else is going to happen. There's a lot going on that doesn't make much sense to us, and Lani is one of those people who does not make sense to us. She has issues we cannot handle, and nothing there is going to work. She's come to a realization about the baby that she's been caring for. The baby that does not belong to her. She's finally seeing things as they are, but she's not willing to give up the life she's creating with Baby David. She's been a person who has made a lot of mistakes in her life, but she's also a person who will continue to do that because she doesn't consider the future.
What's Happening on Days of Our Lives
Matthew Ashford gives his take on Jack's controversial role in the immigration storyline and naming Eve police commissioner. Later, @camilabanus hangs out with @freddiemsmith in her dressing room.

Don't miss the latest episode of Inside Salem! https://t.co/9vlZu6fkQB pic.twitter.com/JZEXmp2ljx

— Days of our Lives (@nbcdays) June 10, 2019
We have so many questions for Gabi these days, so this is good.
What's Next on Days of Our Lives
Soak up the Summer Days. Watch #DAYS, weekdays on NBC. pic.twitter.com/IBHxJcIiQv

— Days of our Lives (@nbcdays) June 5, 2019
Stefan is not a man anyone wants to spend any additional time with, well, except for Chloe and Gabi, but that's not a thing he can fix. But, he's about to make Abe an offer he may not be able to refuse. This might have a lot to do with the fact that Abe is no longer the mayor. That Jack is now the mayor is a big problem for Abe, and the things he's doing are not helping anyone figure out a better way to live, either. There's a lot happening here that we cannot handle, and it is one of those things that simply does not make much sense to us. He's going to make the offer, and Abe may want to consider what the man has to say. He might not have imagined himself working with Stefan at any point in his life, but he also didn't imagine much of what is happening in his life at this point, either. So, it might work for him.
Then there is the fact that Chloe and Rex are going out of their way to become closer. This is slightly problematic as he is trying to figure things out with Sarah, but she's also just coming off the fact that her boyfriend, Stefan, was in bed with Gabi behind her back more than once. She's not about to live that life, but he is actually still coming off of all that stuff with his fiancé, Sarah, so she's probably setting herself up for yet another disappointment. It's her thing.
Stay tuned for more Days of Our Lives and be sure to check out TVOvermind daily for the latest Days of Our Lives spoilers, news, and updates.