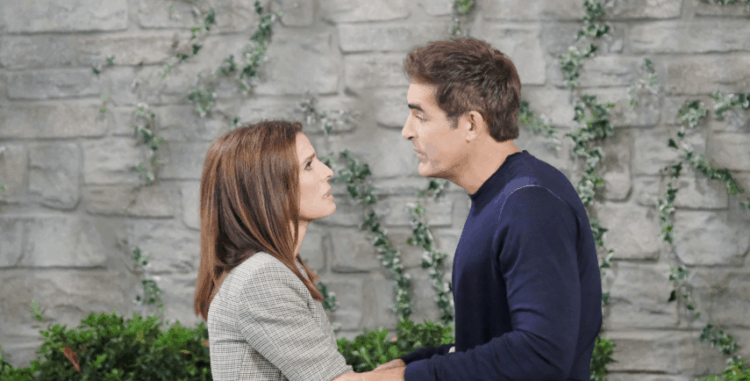 Days of Our Lives fans are watching this week unfold with horror and shock and horrible feelings. We have an idea that this tragedy that will strike will be the moment that there is nothing good left in Nicole's life, ever. We have a feeling that her sweet baby girl is going to be involved in an accident, and it will not be a good situation. We are horrified for her. We are crushed and upset and not within our own right mind thinking about this sweet baby and her life. But, for now, we have to discuss what we saw. Brady is doing all he can to help Chloe in her moment of panic when she realizes that Holly has been taken. He will go out of his way to make sure she feels comforted, and he will make that clear. And then there is Stefan, who also claims to care for Chloe, yet he's caught removing Gabi from his mansion, which does not look good for him.
Furthermore, we feel that this might all be brought back to the part where Hope gave an order and Rafe made the decision to do something else instead. It was not his right to make the decision he did, and he disobeyed her. This might be the moment that changes everything in their lives for the rest of forever. But what about Victor, who is going to place the blame on Holly's disappearance on Nicole for coming back and showing up and making it obvious that she's back and everything is turning around? We don't know for certain that this is the situation, but he thinks it is. And when he thinks that it is, it probably is what he feels it is. There is simply nothing else we can focus on.
What's Happening on Days of Our Lives
Power couple💪🏻❤️🔥 #JackIsBack#Days #JackDevereaux pic.twitter.com/PYeihojgpy

— Shannon (@ShannonCol1201) May 3, 2019
There's nothing we love more.
What's Next on Days of Our Lives
Nicole blames Eric for a tragic event. Watch #DAYS, weekdays on NBC. pic.twitter.com/IyshoSKQ5r

— Days of our Lives (@nbcdays) May 3, 2019
This is going to be a day that hurts us all. There is a horrible accident. There is an accident, and it will claim the life of a child. Nicole is not dead. She is back, and she is ready to be with her daughter, who Chloe has been caring for as her own since Nicole's death. But this is not going to be one of those happy situations. You see, the van that is involved in the accident and explodes is carrying the little girl, who is dead, and the news is going to be so ugly for everyone to face. The horror is almost too much for all of us, and we cannot even imagine the terrible pain these people are going through as they realize that this little girl is gone. Nicole did not even get to reunite with her now that she is back, and we have a feeling that she is taking her anger out on Eric.
You see, he promised to take care of her little girl and he did not. She is horrified, upset, and she is not in a good place, and she will lash out at him and make him feel that this is all his fault. He is the reason for this accident and the death of her daughter, and nothing he says or do will change her mind. And we have a feeling he is not strong enough to handle this. Will he turn to the bottle again? Rumor has it that he is willing to drink again, and that is not good news.
Stay tuned for more Days of Our Lives and be sure to check out TVOvermind daily for the latest Days of Our Lives spoilers, news, and updates.