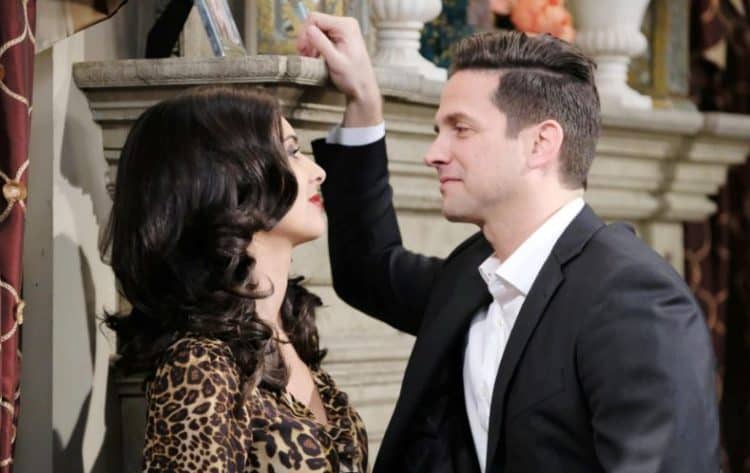 Days of Our Lives fans are not sure how the events of last week will play into this week, but we have to sit down and talk about them to make sure we all know that they do make a difference to us and we can change the way things going. For one, we know that things will work out for Hope. But, she has to find the truth before she does anything else. She's been nothing short of a total mess for a while now, and that's all right. There's a lot she can do and a lot she can accomplish that works in her favor. But, we also know that sometimes things don't work out, as it will not with her and Ted. Will she have a chance to make things right with Rafe in the future, or will she find out that things there are totally done and over with and she's got no other chance?
Then there is the fact that Kristin has seduced Brady as Nicole, and Eric is not happy about any of it, Rex left town and left Sarah and Eric together, and everyone is a mess. She, Kristin, is planning on telling Brady she is not really Nicole, and that won't go over well. But, we do think it speaks to the fact that she is so much of a mess. She cannot see why he would not be thrilled that she is really herself and not Nicole after he thinks he's falling back in love with Nicole. She's a disaster, and this will not go well. She's considering it, though, and she does feel like this is a great idea. It's not. But she feels like this is a wonderful situation. We cannot wait to see how this all falls apart for her in the near future.
What's Happening on Days of Our Lives
.@matthew_ashford and @missyreeves4 look back at their recent #DAYS scenes. ❤️

Listen to the latest episode of Inside Salem: https://t.co/9vlZu5XJZ3 pic.twitter.com/Px89aX5Gf4

— Days of our Lives (@nbcdays) August 9, 2019
We love this!
What's Next on Days of Our Lives
Anna has a dramatic message for Tony, and Ben and Ciara overhear something they shouldn't. Watch #DAYS, weekdays on @NBC. pic.twitter.com/yjZ94Utnwy

— Days of our Lives (@nbcdays) August 9, 2019
John and Marlena are about the cutest and most adorable couple on the planet, and we love it. They are going to both have the same idea about surprising one another, and it will be the sweetest thing on the planet. They both think that the other has no idea that they are in this situation, and they are both planning on surprising one another with some special things. What's so sweet, though, is that they don't know that they are both going to try and surprise one another with the same exact things. We love this so much, and that's all there is to it. They are sweet, and we love them. Hopefully, they are able to handle this well and laugh it off and love that they are so much alike.
Abby and Chad are coming home, and they are going to have some drama with them when they do. They are currently in Paris, but we are going to see them there having some issues. He will not be happy with her when he comes home one evening to find his wife toasting a glass of champagne with Austin in their home, and he will become very jealous. He wasn't always that type, but now he is and that's a problem for them. Will this be part of the reason they choose to come home? The fact that they might not be able to find happiness anywhere they go? We don't know, but this might be a situation we see unfold significantly.
Stay tuned for more Days of Our Lives and be sure to check out TVOvermind daily for the latest Days of Our Lives spoilers, news, and updates.