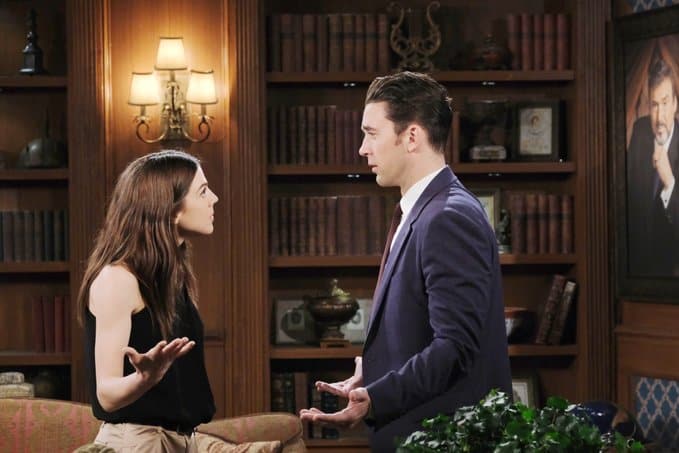 Days of Our Lives fans are left going into the new week wondering if Victor will be all right after Kristin attacked him. She was furious with him after she learned he was behind the faked death of her baby a year ago. That baby has been raised by Eric and Sarah and Xander this entire time, and it has left her without a year of her baby's life to share with her. It's also left her with a lot of stuff going on that makes things seems a little more interesting. Her baby is being held from her, and she doesn't know where to find her or how to get to her, and she's not going to rest until she has her baby back. She's attacked Victor with a knife, and we simply don't know if he will be all right. We also know that Chad and Abigail had some good stuff happen last week.
They celebrated a bit now that things are going more their way, but we worry that perhaps Gabi is now hallucinating. Her husband was killed a year ago, and he's gone. He's so gone that his heart is currently beating inside the body of another woman, and he is gone and dead. But, she's just caught a glimpse of him inside of a store window, and now she is convinced he is back from the dead. Of course, we are all kind of convinced he is back from the dead, but this is Salem. Anything can happen, and it will happen. But, for the moment, we go with the fact that she might just be hallucinating a bit. We will see, though. On the other side of things, we did see that Rafe has some issues of his own to deal with, and so do Justin, Kayla, and Steve.
What's Happening on Days of Our Lives
We'll find a way to get through this together. https://t.co/iMTBF3aIme

— Days of our Lives (@nbcdays) April 7, 2020
Better days ahead.
What's Next on Days of Our Lives
Sarah is determined to keep Mackenzie with her, while Kristen seeks revenge from the man who stole her baby. Watch #DAYS, weekdays on @NBC. pic.twitter.com/bpPJTsRLSW

— Days of our Lives (@nbcdays) April 17, 2020
Jake is someone who Ben cannot get over. He is living his life wondering why things seem so coincidental all the time, and Jake is merely adding to that. He cannot get over how much Jake seems to resemble someone he knew a long time ago. He isn't sure why this is something that is hitting him so hard right now, but he's getting the vibe that Jake looks a lot like an old friend, and that nagging feeling he is getting is only making things worse for him. But, he needs to decide if this is something he should focus on or if it is something he needs to just let go and move on from. We don't know, but we are making some decisions of our own, too. We think that this might turn into something a little bigger before much longer.
Abigail and Chad are learning some reasons for her hallucinations, too. Why can't they have things easy? Why can't they spend a little bit of time with one another just enjoying life and living happily and being a family? Why can't they find that anywhere they go? They moved to Paris and it didn't work out for them, either. They have so much drama, and we are starting to wonder if they need to go their own separate ways and let this go. They don't seem to be living their best lives right now, and we'd love to see that change in the near future. Will it, or will they continue to struggle and find things that get in their way?
Stay tuned for more Days of Our Lives and be sure to check out TVOvermind daily for the latest Days of Our Lives spoilers, news, and updates.