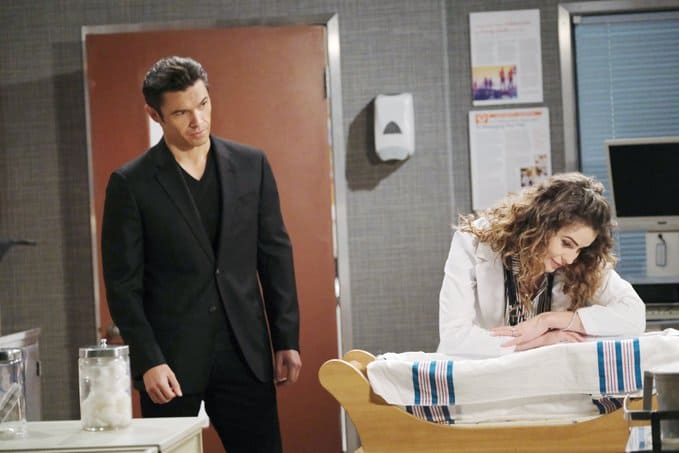 Days of Our Lives fans are not all that surprised that Hattie is going to make some changes in her life. She's a mess. She's always been one, but she has to figure out what to do with her future. She cannot sit around Salem and take over the life of another woman forever now that she is not in prison any longer. She cannot sit back and continue living a life of crime when she's looking to improve herself and her life. She cannot keep doing things the way that she's been doing them. She has to figure out if Roman will actually spend time with her and ever love her the way she wants to be loved, but we honestly don't think that she will get what she is looking for from him. She's got a lot to consider, and we are happy to see her considering things in her world this way.
Then there is Marlena. What is she to do right now? She's got this man who wants to be with her, who she does not love. She's not into Stefano, but he has asked her to marry him, and she might need to do this to keep her family and her loved ones safe. This means that she'd need to end her marriage to John and do this and be a person she hates, and her life will no longer be worth living. What is she going to do with herself and with her life? What is going to change her mind and make this seem like something she has to focus on? Anna and Abigail, however, are looking at Chad and seeing that some things are not what they seem. Some things are not going to be good for him. Some things are not okay.
What's Happening on Days of Our Lives
https://twitter.com/kristianalfonso/status/1226254950637813760?ref_src=twsrc%5Etfw
We agree.
What's Next on Days of Our Lives
Salem's list of villains just got longer – Orpheus is back! Watch #DAYS, weekdays on @NBC. pic.twitter.com/w4XkEvJaEd

— Days of our Lives (@nbcdays) March 13, 2020
Well, there's a situation that we didn't see coming. Tony and Kristin were gathered by Chad for Stefano not because he has any desire to kill them, but because he's announcing his good news and he need them to do some stuff for him. He's marrying Marlena. Like, right now. She's agreed to marry him – well he's told her she's marrying him – and they are getting married right now, tonight. Right this very second in life, and there is not a thing that anyone can do that will stop this from happening. They are needed to get things handled legally. So, they're not victims. Yet, that we know of, anyway.
On the subject of Chad, his wife is not a dummy. You guys, he might think he can hide from her the fact that he is no longer in control of his own mind, but we all know this is simply not the truth as he knows what is going on and that he has to find a way to stop this. He is hiding this from Abigail, but she's got a brain. She's not stupid and she's going to figure this out. Today, we think. Rumor has it that she is about to make a rather shocking discovery, and it will not be easy for her. Now that she knows, though, can she stop this and put an end to the horrible things her husband is up to? We aren't sure, but she can find the help she needs, right? We know this, and we are here for this.
Stay tuned for more Days of Our Lives and be sure to check out TVOvermind daily for the latest Days of Our Lives spoilers, news, and updates.