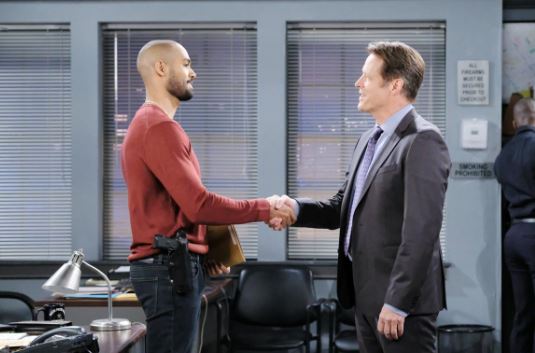 Days of Our Lives fans know that this is going to be a tough week for some people, but that's almost every week for those who have the biggest need. Brady is someone who is not going to get what he wants in life if he cannot control his way of thinking, but I think we can all agree that he struggles in that situation. For example, Kristin has been after him for a while dressed as Nicole. Nicole is the woman who his brother, Eric, is madly in love with, and she hurt him terribly. They have been down this road before, too, and he's someone who should know better. While he has no idea that it's Kristin dressed up as Nicole, he should know that his brother loves this woman and he cannot make that work. He cannot be with her, and yet here he is giving in to her advances and making things work with her.
It's a double whammy for him, and he has no idea just yet. He doesn't know what's going on, but we all agree that he should, in general, know better than to go this route with the woman who his brother is madly in love with and wants to be with more than anyone. Meanwhile, we also know that Kate is going to faint when she sees a face she knows. Who will it be? There are so many people in Salem right now who should not be here, so we are just as surprised as the next guy to see who it is and what is going on and how this might work. Who will she see? Will she see Kristin? Will she see someone else? We don't know, but we cannot wait to find out what is going on around here.
What's Happening on Days of Our Lives
Which emoji describes how you feel about Ted? 👀 #DAYS pic.twitter.com/FBas7ofPBd

— Days of our Lives (@nbcdays) August 6, 2019
Go ahead and let us know.
What's Next on Days of Our Lives
Rex's wife left him for his brother, but things are much worse for Ted. Watch #DAYS, weekdays on @NBC. pic.twitter.com/XAGLk3LhRX

— Days of our Lives (@nbcdays) August 2, 2019
Hope is in a bad place right now, and we get it. She's been looking for Ted more in the past few weeks than she has looked for someone in her entire life – and that is saying a lot considering how often her own daughter was kidnapped and held hostage in the past year. She's not entirely sure where he is or what happened to him, but she knows he is in danger. She has no idea just what happened or that he is not coming back, but she's going to make a shocking discovery. Is there any other type of discovery around Salem, if we are asking some honest questions? We aren't entirely certain. But, we are familiar with the fact that this situation is one she's very familiar with in so many ways. She makes this discovery, and she's going to find that things are not the same around here afterward.
Then there is Anna. The DiMera hasn't been around in a very long time, but she is back and she is better than ever. We appreciate her and all she has to offer, and it's a nice thing for her. She's got the kind of situation going for her that she feels good about, and we like it. She's here to make some changes, to cause some drama, and to make things work for her. We can honestly say that we are excited about the drama she will very likely bring to the table, and it does bring us great joy to see her return.
Stay tuned for more Days of Our Lives and be sure to check out TVOvermind daily for the latest Days of Our Lives spoilers, news, and updates.