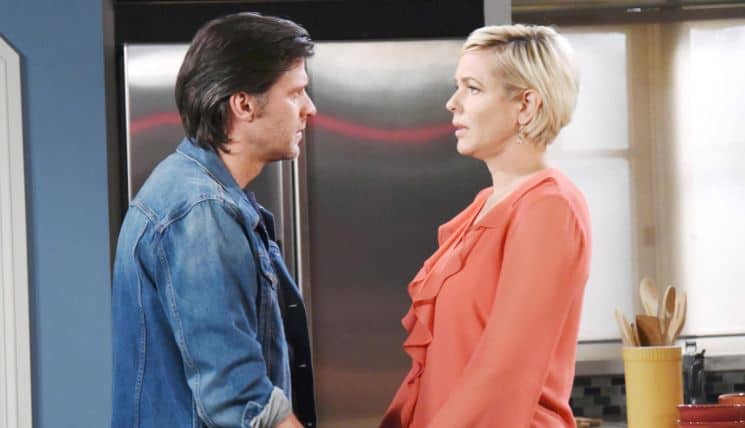 Days of Our Lives fans know that the week started off with a bang, and it's only going to continue to go that route. For one, we all know that things didn't go well for so many people who had so much to offer last week, and it's all changing this week. There is a moment when we all had to sit back and remember that Sami, Nicole, and Eric are all on the same page. They are literally on the same team, even if they've forgotten that they are. They have a lot of information to retain in the near future, and they are starting that off with a situation that brings them together. They all have the same goal, and they've figured that out and made that work for them. We also saw that Kristen's mystery patient called out a name that we all know, and this is going to lead into something really big. It's going to be amazing.
And then there is the fact that we have to deal with Kristen's realization that Brady doesn't mean anything he's saying to her. She's caught on to his lies and his stories, and she's aware that he is making up things so they can be together for all of this, and she's upset. While we all know that he was doing this, she allowed herself to believe that things were better for them and that they were in the middle of a moment that meant more than it did. She convinced herself he really did suddenly change his entire mind and things were definitely better and changed. She now realizes she was a fool for thinking any of that, and she's upset. She's actually quite embarrassed, and that won't make her very happy with him.
What's Happening on Days of Our Lives
https://twitter.com/nbcdays/status/1050823487718400000?ref_src=twsrc%5Etfw
We love to see that Marlena looks so good behind the scenes with her almost husband and daughter. It's all good in the background of all that's going on around here, and we just hope that things will continue to get better as the days go on. There's not much we can do to make this situation look any better on television, but we can share all the good stuff.
What's Next on Days of Our Lives
She's made him believe he can be good again – how could Ben not fall for Ciara? Watch #DAYS, weekdays on NBC. pic.twitter.com/UVbfqiqnam

— Days of our Lives (@nbcdays) October 13, 2018
It's time for things to make a bit of a change for some people. We think there is a chance that they have to make up for what they are doing with the people in their lives, and we think that we can make a situation seem a little better and a little more productive. There is a good chance that we all have to sit back and watch as the mean Claire decides she's going to befriend Ben after all that happened with them earlier in the year. She panicked and didn't want to be nice to him when he came to live with them, but she's changed her mind. She's his friend now that she's figured out it's up to him and her to make sure that Tripp and Ciara don't go any further with their relationship. They both want them, and they want to make this fall apart.
And now Claire has decided she can use Ben to help her split them up, and that will have the best outcome for them. This is not a good idea, but she's not above using Ben to get what she wants. And what she wants is Tripp. She thought she had a chance, but Ciara managed to find her way back into this situation. And we should remember that Claire is really just upset about the fact that her own boyfriend is across the world with a wound he needs healed. And now she's alone and single, and she's looking for a man of her own. And that man is Tripp.
Stay tuned for more Days of Our Lives and be sure to check out TVOvermind daily for the latest Days of Our Lives spoilers, news, and updates.