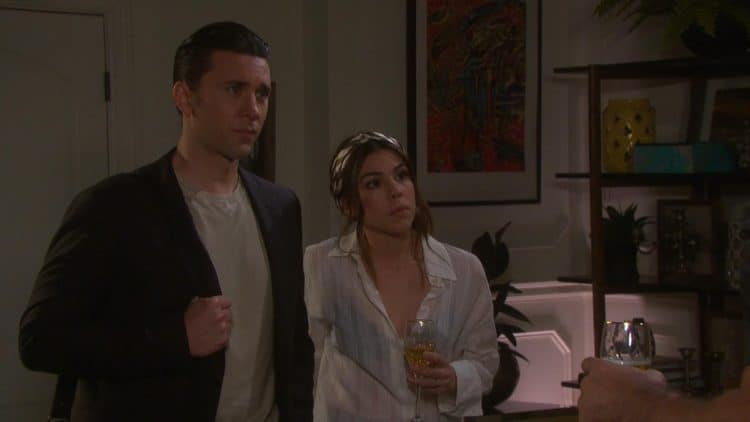 Days of Our Lives fans are glad there is a new week here. Last week was something we didn't expect in so many ways. We kind of hoped that things would work out for more people, and they really didn't. To be honest, we also kind of hoped that some people would focus on things that were a bit more interesting and more positive, and they also did not. We were not impressed by more than a few things, and it does frustrate us. We thought we'd see more of Kristin being outed for her true personality, but most everyone still feels that she is Nicole. She's ruining lives, she's getting into fights every with every person she comes across, but she cannot get it together. We cannot decide how to focus on anything other than her being found out, and it doesn't seem to be working for us in the least. We want her caught.
We are tired of watching her as she fights with everyone in the world. We are tired of being the people who have to watch fake Nicole have the same argument with all the people in her life that she's been arguing with. It's too much for us, and we would like to see her caught. We'd also like to see Jennifer and Jack come together again. We'd like to see Eric and Brady actually work it out. All the work that Brady put into that relationship is just out the window in the blink of an eye. He would have done anything, and everything, for that man in the past year after Nicole's death, and now he is sleeping with her and making things worse as a whole. It's not great news. We don't care for it much at all. We want more from this week.
What's Happening on Days of Our Lives
Serving looks is all in a #DAYS work. | 📷: @kristianalfonso pic.twitter.com/rezApPL8yl

— Days of our Lives (@nbcdays) August 16, 2019
So much fun to have him back!
What's Next on Days of Our Lives
Anna has a dramatic message for Tony, and Ben and Ciara overhear something they shouldn't. Watch #DAYS, weekdays on @NBC. pic.twitter.com/yjZ94Utnwy

— Days of our Lives (@nbcdays) August 9, 2019
It's going to be a big day for Brady, but not in a good way. He has to tell Eric about the choice he made. All the work he's put into helping his brother become his brother again is going out the window. Not only did Brady spend some of his own time falling for Nicole in the past and causing serious issues with Eric because of it, his brother also blamed him for saving Eric and not saving Nicole in the fire. He didn't speak to him for months, and they had a very long road to get to the kind of semi-okay place they are in right now, and it's been an ugly situation. But, now they have the moment of truth upon them, and Brady has to break the news to Eric that Nicole wants to be with him, Brady, and that he's chosen to be with her. This comes after she crushed him for killing her baby – which he did not do, by the way.
Of course, we know that Nicole is really Kristin in hiding, but others don't know that. They don't know that this is the way they are living and their own personal hell. But, this will come out eventually. It won't fix anything between these two brothers, however. They will never see things for what they are. They will never see things for the moment they are living, and they will not make a difference to anyone in the middle of what is going on. We cannot help it, but we know this will only make it worse.
Stay tuned for more Days of Our Lives and be sure to check out TVOvermind daily for the latest Days of Our Lives spoilers, news, and updates.