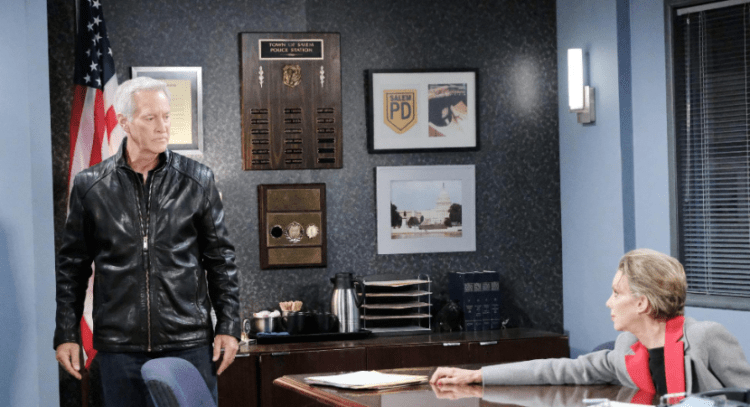 Days of Our Lives fans were not surprised to see that Hope had a lot to say to Ted. She's already been in a lot of trouble in her personal life because of him and what he did to her and to Rafe, but they have put their life back together to make things right. She's not about to allow this man to get in her way and make things a mess for her – again – and she's not going to see things take a turn for the worse, either. She gave him a warning that extends into their personal lives as well as other aspects of his own life, too. But will he listen? We also got to see Leo get some bad news, which was given to him by Brady. We think Brady enjoyed sharing that bad news in a way that doesn't do him any justice, but we can't blame him in the moment. Things aren't working out for him and his mother at this point.
His mother poisoned Marlena, and John knows it. He's about to turn the tables on her, and it's not going to be pretty. He suspects that there is a lot going on in her life and that she's responsible for more than she's willing to talk about, but he is also not willing to let her go and make things right in her life without paying for what she did in his life. We've seen this story before – where she's nearly died because someone else doesn't want to see her live, and we know how it ends. Marlena will come through, be just fine, and everyone else will need to see things take a turn for them. She will overcome this, and we know it. She always does, and she always has.
What's Happening on Days of Our Lives
Stefan catches Brady and Chloe in an intimate moment, while Ciara gets up close and personal with Ben in the hospital. Watch Days of our Lives, weekdays on NBC. pic.twitter.com/KUWx8MXeY3

— Days of our Lives (@nbcdays) March 22, 2019
We do love a good guest appearance, right?
What's Next on Days of Our Lives
Hope has a bone to pick with Ted. #DAYS pic.twitter.com/d4IL8fP5m8

— Days of our Lives (@nbcdays) March 25, 2019
Brady is not exactly happy with his brother right now, and he's making it clear to Eric that he has some problems to deal with. He's making sure he's aware that things will not make him happy if he doesn't get his situation under control, but we know that there are some things that will never change. Eric has feelings for Sarah, and he's not about to let his brother make him feel bad about that. Things will not work out for him that way. But, what happens when we see Brady take out his own feelings on someone else? For example what happens when he walks in on a moment in which Chloe and Stefan are sharing, and he's not at all happy with it? Will he keep that to himself, or will he make sure that she knows he's not happy with anything that is going on in that situation? We know that things will not end up easy for him, but what will happen?
We also know that there is a chance that Chloe will be very confused. She should be, too, because we hear that Stefan is not just into her. He has some feelings for Gabi that he is not willing to admit at this point, and he's not being very discreet about any of them. He is in a place where he has to focus on his situation and figure out what he wants, but he is struggling at doing that.
Stay tuned for more Days of Our Lives and be sure to check out TVOvermind daily for the latest Days of Our Lives spoilers, news, and updates.