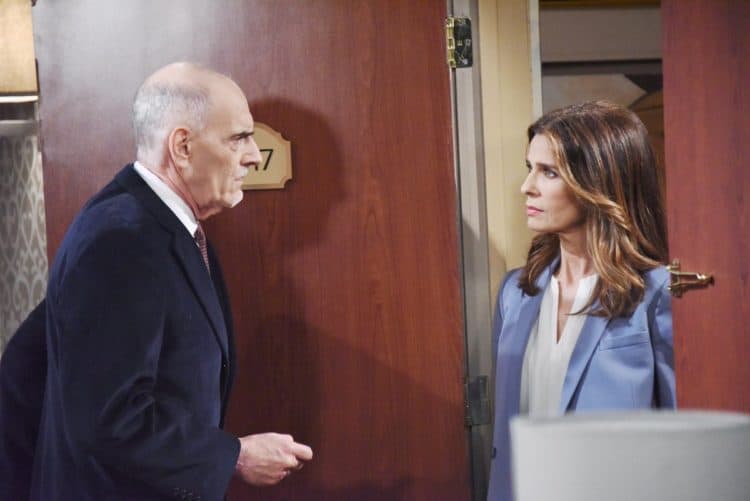 Days of Our Lives fans know that the last week was a bit of a powerful one. Not like the rest are not like that, of course, but this one stood out to us thanks to the simple fact that so many things went down, so many people were affected, and so much was lost. Gabi lost her new husband. She is a young woman who has been searching for happiness for such a long time, and she's been lost in the process of doing that. She's not been in a good state of mind for some time, and she finally found some happiness in her life. She found someone to spend time with, to love, to focus on, and to be with. She lost him, and that crushed her so soon into their marriage and their time together. She feels as if she cannot get a break, and saying goodbye to him was horrible for her. Ultimately, she had to.
She also had a decision to make. Did she give his heart to Julie, or did she not? She's not in the mood to protect Stefan's mother, who was thought dead and then brought back to life recently, after what she did. She is the reason that Stefan is dead in the first place. Lani would not have had to do what she had to do if it were not for Vivian, and so she decided to give Julie the heart and make it all right. Julie and her family, of course, are thrilled and happy and never better. They were terrified to say farewell to this woman they love so much, but they don't have to anymore. Things are looking up for them, and we are all happy we are not being forced to say goodbye to this character we love so much.
What's Happening on Days of Our Lives
Can you believe we're already in Season 55 of #DAYS? Save the date for Day of Days – a special Days of Our Lives event! pic.twitter.com/alBzpjkkMj

— Days of our Lives (@nbcdays) October 4, 2019
This is coming up and we are so excited!
What's Next on Days of Our Lives
Marlena drops by unexpectedly and catches Eric and Nicole in an intimate moment. Watch Days of our Lives, weekdays on NBC. pic.twitter.com/R4PKlOtfqC

— Days of our Lives (@nbcdays) October 11, 2019
Kristin is like a cat with 9 lives, but she's got 78 lives and she's continuing to find that she has more. She can come right into Salem anytime she wants, try to kill people, try to make people miserable, steal identities and actual faces, and she can get away with all of it and the kidnapping and arranged fake deaths and things like that — and she's good to go. She can then trick a man into getting another woman pregnant not knowing it's just her wearing the face of another woman — and she can then walk free and get her life in order afterward because of this baby. We are shocked that she can ingrain herself right into the lives of so many with this situation, and it kills us. It actually kills us she is able to do this and make it work for her. But, she's now going through some medical issues.
She's about to have a medical situation happen that she might not know how to handle, and we do assume it must be child related. The baby she's carrying might be in danger, but she cannot do anything about that. However, Brady will be there for her while she goes through this, while she makes it work to her advantage — because this is Kristin. She will make this work to her advantage. She will use this to get what she wants, to do what she wants, and to make things happen in her life. We all know this, and you know that it is true.
Stay tuned for more Days of Our Lives and be sure to check out TVOvermind daily for the latest Days of Our Lives spoilers, news, and updates.