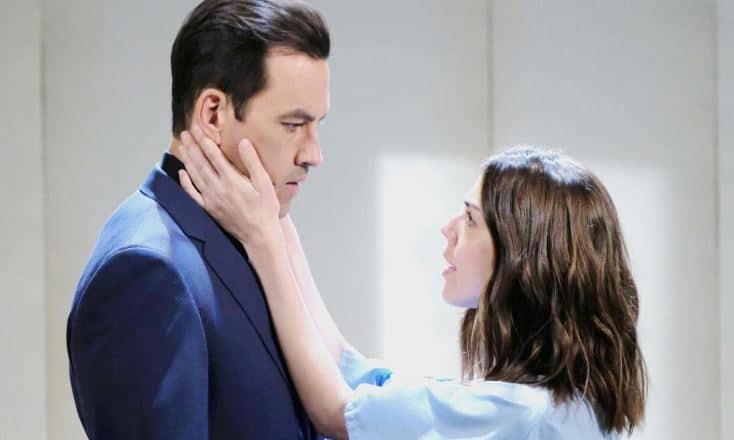 Days of Our Lives fans are very excited that things are happening the way that they are, but we do know that there is a good chance that we might see more than we bargained for at some point. We may not know what is happening and how it will all go down, but we do know that there is a good chance we will see a lot. We know that Chad is not happy right now, but he's got a lot to be upset about anyway. He knows that his wife may never forgive him for what he did to her. He used the man she is most terrified of in the entire world to help him kidnap her so that he could make sure she was all right. He had good intentions – we think, anyway – but the entire situation kind of backfired on him in a major way. It's not good news for him, but he's going to find out that some things just aren't what they seem in other ways, either.
He's going to catch something that he might not even realize is a big deal. It might seem like a minor annoyance at first, but this is about to turn into something that we cannot even handle. He just found Gabi with something she should not have. He found her with paternity papers for baby Charlotte. The little girl that his wife just had who he believes belongs to his wife's alter ego and her boyfriend – his own half-brother – Stefan. This is going to confuse him until he begins to put things together. Will this be the moment that he realizes that there is something else going on, and that there is a good chance that this is something he needs to look into? Will he find out this baby is his?
What's Happening on Days of Our Lives
Working with friends isn't really work at all #DaysofOurLives pic.twitter.com/iUAXbpuMko

— Matthew Ashford (@matthew_ashford) December 2, 2018
It does help when you get to work with people you not only love, but people you consider friends, too. That's a nice feeling and it's one that we love more than most other feelings. We aren't all that surprised to see that they are feeling this way, either.
What's Next on Days of Our Lives
Lani gets jealous when she sees Eli with Sheila. Watch an all-new episode of #DAYS, weekdays on NBC. pic.twitter.com/J8P9HzjsDw

— Days of our Lives (@nbcdays) November 30, 2018
Today is the day that we've all been waiting for. It seems that Ben is about to take Ciara on their first date, and we are so excited to see it. Will it go well for them, or will someone come along and ruin it? Will they go somewhere in which they might run into people they know, or will they go somewhere that no one will or can find them that they know. She is dating a man who killed numerous people and did some pretty terrible things to the people who he did not kill, so that's a problem he faces when he goes out. Not too many people are happy to see his very familiar face around Salem.
Brady is going to work hard to make sure he can make things work with his brother. He's got the idea to try and mend some broken fences that they've been living with for many years, and he's not taking no for an answer. He's plotted a few ways that he can make that happen, and this is the day we will see him try and execute his first idea. He's finally realized that he and his brother have been facing too many trials and tribulations in their life for too long. They are done with that. They don't want to keep living like this, but they don't seem to have much of a choice. He wants to fix that, but he's not entirely sure where to go and how to do it. This might just be his lucky day as things fall into place for him for the first time in a while.
Stay tuned for more Days of Our Lives and be sure to check out TVOvermind daily for the latest Days of Our Lives spoilers, news, and updates.