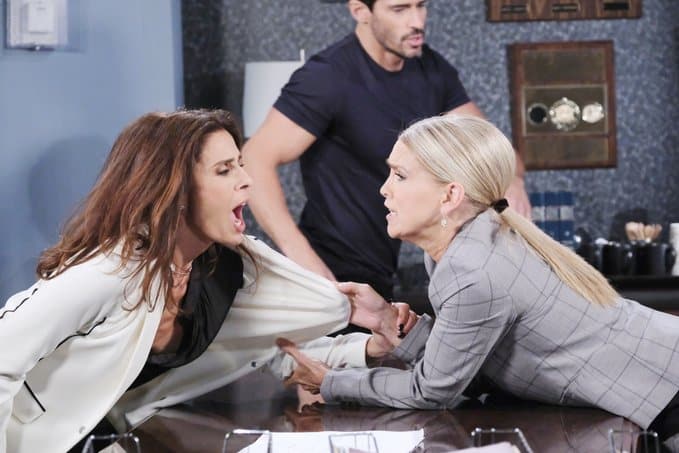 Days of Our Lives fans are sure that things are going to turn around at some point, but when? Marlena is in a predicament right now because she has no idea how to get out of this mess she is in. She's got to get away from Rolf before he manages to do what he needs to do to keep her in his care and do what he's planning, but how will she get out? Everyone is looking for her and trying to save her, but it's not working at the moment. We also know that there is a lot going on with John and Justin and Kayla. They had a plan to find her and to help her, but things are not going their way. Now they are finding themselves in a lot of danger, and we cannot be sure that this is going to end well for any of them.
Meanwhile, we also know that Ben is going to be all right. We are so happy to hear this because we were so worried last week when his life seemed to be over as they tried to execute him. Things turned around, thank goodness, and it seems that they are going to be just fine now. He's so happy that Ciara was able to get their in time and save his life, and we are more than happy to see them spend their lives together again. This was such a good moment, but it isn't all good moments. Chad is being possessed by his father's mind control, and he tried to kill Gabi. He tired to take her life by smothering her, but she managed to get free. He is not himself, and we assume she knows this. He might not like her, but she knows he is not a killer.
What's Happening on Days of Our Lives
It's #InternationalWomensDay and we're celebrating all of the amazing women that have graced Salem. Who have been some of your favorites? #DAYS pic.twitter.com/yvobHgrZr6

— Days of our Lives (@nbcdays) March 8, 2020
We love them!
What's Next on Days of Our Lives
A birthmark reveals the truth about Sarah's baby and Xander and Victor's baby-swapping scheme. Watch #DAYS, weekdays on @NBC. pic.twitter.com/JlENp2zGIi

— Days of our Lives (@nbcdays) March 7, 2020
Chad is a man on a mission, and his mission is all laser-focused on what his dad is asking him to do. Right now, he's been asked to kill a few people. It started with Gabi, and now he is being asked to make sure that it's Kate who is gone, and Chad has no control over his own mind to make sure this does not happen. We are sad for him that this is a problem, and he has to find a way to fight this, but we aren't sure he can do that. He's in a bad situation, and it doesn't look like there is any way out for him. Then there is Justin. He's scared of losing Kayla, and he's talking to Jack about that. He's so scared that something will happen to her or that she will end up being with Steve again — if he comes back — and things are a mess for him right now.
But, what about John? He's also afraid of a few things, too. He's afraid that something will happen to Marlena and she will neve be his again, and the thought of that is crushing him in so many ways. He needs help finding out where she is and what is being done to her, and he needs it from Gina. She will love this need he has for her, but we don't anticipate that this will end well at all. We don't have a good feeling about any of this, but he is a man who is desperate.
Stay tuned for more Days of Our Lives and be sure to check out TVOvermind daily for the latest Days of Our Lives spoilers, news, and updates.