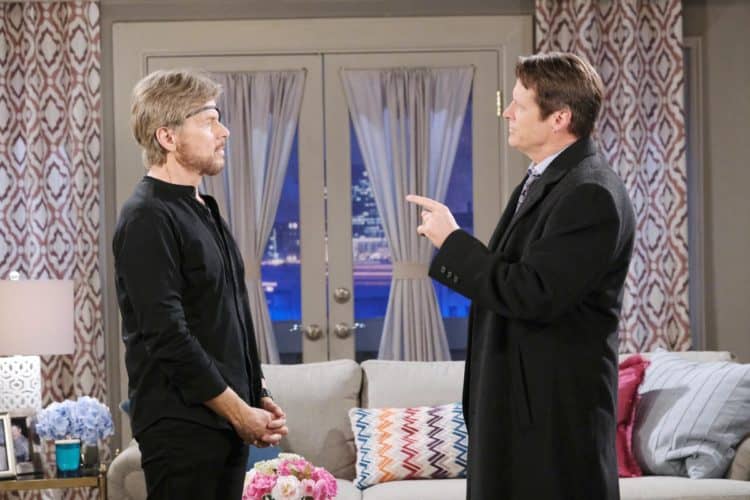 Days of Our Lives fans are not shocked that Clyde asked Ben to help him escape, and that he could go with, from prison. What we are surprised about, though, is that it took him this long to make it happen. He is a man who never sits back and allows anything to change his life and make him do things he's not interested in doing, so we were shocked when he was willing to sit back and allow things to change him like this. We thought he would make this announcement and start working on a breakout plan months ago, but he didn't. Oh well, though. He is now, and getting Ben out of prison and back to Ciara is all that matters to us. They belong together, and we are so tired of watching them be miserable without one another every single day. They need more than this in their lives.
We were also not surprised when Hattie was there to create some problems for Kate. It's really what she does best, you know. She is nothing short of a hot mess who likes to get her way, do things that don't make much sense to anyone else, and make a mess of everyone's lives. It's how she rolls, and we are not surprised by any of this. She's going to keep that up, too, and we know Roman will instantly regret that chances that he gave her when she got out. Everyone always regrets anything she's up to. On the other side of things is Steve, who is now making it clear to Kristin who he really is. He's the kind of man who likes to make things go his way, so this is not a surprising situation for us that he chose this route. It might be for her, though.
What's Happening on Days of Our Lives
In the latest #DAYS, Lani asks JJ if she can hide out at his place.https://t.co/ZsCmioRrzb pic.twitter.com/w74cYpPkYO

— Days of our Lives (@nbcdays) January 9, 2020
What a pair.
What's Next on Days of Our Lives
It's a week of shocking rebounds and returns in Salem when Eli proposes to Gabi, and Adrienne returns! Watch #DAYS, weekdays on @NBC. pic.twitter.com/wWBgR00bfi

— Days of our Lives (@nbcdays) January 11, 2020
Chad is not in a good place right now with Kate, and he's leaning toward the fact that she seems very aware of what she's up to, but she's keeping it close to the vest. He's not sure what she's doing, how she's doing it, or what is on her mind right now, but he's keeping a close eye on her. He certainly does not trust her in any capacity, and that's not a problem we can disagree with. She's definitely up to many things that she cannot handle right now, and we think that she needs to get her life together. She's not in a good place. Abigail is going to find herself very surprised when she finds Steve with Kristin. She did not see that coming, and she didn't even know he was in town.
Of course, we all know the truth, and this is not what it appears to be. This is all so much more than that, but this is something that will begin the ball rolling on many things, and that is a big deal. We cannot tell you just how big of a deal, of course, but it is a big one. We are just going to let that happen, and we are also going to see Eli make a big move. He's going to ask Gabi to marry him, and excuse us while we just sit down over here with jaws on the floor and lives not really in the present moment. What on earth for? They are so boring together, and there is not even an ounce of spark.
Stay tuned for more Days of Our Lives and be sure to check out TVOvermind daily for the latest Days of Our Lives spoilers, news, and updates.