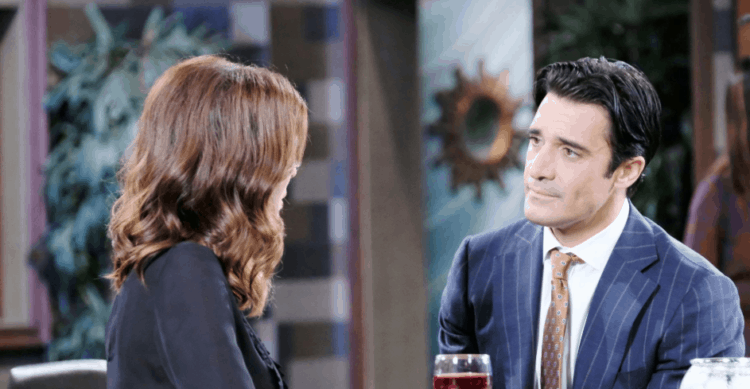 Days of Our Lives fans were beyond shocked by so many things, but most of all that Jordan told Rafe that while she will not tell him who the father of her baby is, she definitely did tell him that she doesn't want anything to do with him or him with her baby. Things are getting a little bit interesting around here. Sheila is not sure what Abe wants from her. She's misreading so many things that are not going to go well for her, and we have to assume that things are getting a little bit out of control, out of hand, and not really where they need to be at this point in time. But for now, we have to sit back and wonder what is going to happen for anyone and everyone. Eric offered his assistance to Jennifer, and she might just take it. She's not sure what she wants from him at this moment in time, but she knows that she does not want to see him married to Eve.
Eric will do it, too. But Marlena is also on a path to make sure more mistakes are not made. She's going to share with Sarah that Eric has feelings for her and wants to be with her. It's her hope that this information will make it possible for Sarah to make a more informed decision about things. And we don't know that there will be much more that can be done at this point in time. There is a lot that is going to happen in the meantime, but right now is a big deal for so many. Will Sarah make a good decision, or will she decide to continue to try and make things work with Eric? We don't know what she might decide to do.
What's Happening on Days of Our Lives
Is it Jennifer's turn to rescue Jack? #DAYS pic.twitter.com/XTbIBJoeOW

— Days of our Lives (@nbcdays) April 8, 2019
Is this a rescue, though?
What's Next on Days of Our Lives
Years ago, Jack rescued Jennifer. Now it's Jennifer's turn to repay the favor. Watch Days of our Lives, weekdays on NBC. #DAYS pic.twitter.com/Kpzeug4VYM

— Days of our Lives (@nbcdays) April 5, 2019
Things are taking a very crazy turn when Rex and Sarah have something they want to tell Sonny and Will, an we have no idea how this will change things when they get into this situation. Will they share something that will affect their own future, or will they simply share that they are not going to get married because Sarah has figured out she has feelings for another man? We aren't sure where this is going or what this means, but we do think that we can get on board with her making decisions that are good enough to get her life in order. All we know at this point is tha Sarah is dealing with a lot right now, and Rex is not happy with some of her personal choices as they pertain to Eric.
Claire is helping Haley plan her wedding to her own ex-boyfriend and pretending she is fine with it when we all know that she is looking for any way to make sure this doesn't happen. We don't know why anyone thinks she is happy to help and that this is not something that she is doing out of the goodness of her own heart. She is a mess, and no one can quite figure out what is going on with her. She's on her way out, and we know that she will not get it together before she does. She will do something awful, and there is nothing that anyone can do about it to make it seem better.
Stay tuned for more Days of Our Lives and be sure to check out TVOvermind daily for the latest Days of Our Lives spoilers, news, and updates.