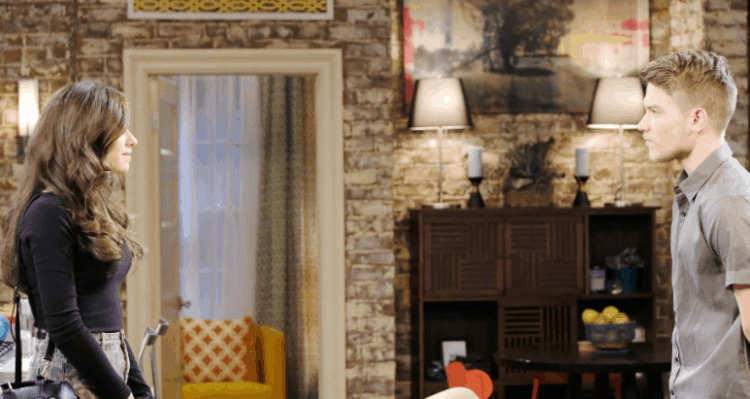 Days of Our Lives fans watched a lot go down this week, but it was really hard to watch things unfold with Kayla and her job of sharing the devastating news with everyone in her life. She's been in a horrible place lately, and watching her learn that Caroline passed and have to share that news with Victor was hard on her. It was hard on him, too, and it was hard to watch. We hope that they can find some sort of peace in all of this, but we know that they will not. We also know there will be a few familiar faces returning to the set soon to film some scenes to honor the actress in her role. She's a woman who spent a long time in Salem providing us with a great deal of entertainment and wonderful happenings, and she will be truly missed as the actress has passed.
Meanwhile, it was also sad to watch Sami share the news with her son. Will is in a rough place in his own life with his own health, and he wasn't looking for this kind of news. This is a woman who has always been important to him, and now she is gone. It's a personal blow to him in his life, and we cannot handle that for him. It's been a sad week all around. Hope shared a beautiful moment with Victor, though, in the moment when they shared stories of Caroline. Will her death, perhaps, bring people together in a way that they have not been together in a while? So many things have been working to tear everyone apart, and we can only hope that this is not the case around here right now. Will they have a change of heart about their futures?
What's Happening on Days of Our Lives
Okay those last minutes of #Days made me 😥! Beautiful scene with Will and "Caroline".

— Susan Agricola (@susan_agricola) June 19, 2019
This is the kind of stuff we love to see.
What's Next on Days of Our Lives
Kayla invites you to a wake honoring her late mother, Caroline Brady. Watch #DAYS, weekdays on NBC. pic.twitter.com/dFrIBjH4IS

— Days of our Lives (@nbcdays) June 14, 2019
Tripp is done. He's had enough of Claire and all her crazy ways. He's had enough of her and her crazy ways and her attitude and her lies and her obvious problems. After Ciara informed him that there was a bigger issue he needed to know, he wasn't sure what to do. He didn't know if he could trust her. But, she did share with him that Claire is the person who set the cabin on fire more than one time, and she did it for her own personal gain. He's not sure now how he feels about her and her life, and that's not something that we can focus on other than to realize that he is problematic and there is not anything good about what was going on. He's done with her, and today he will make sure she's made aware of that. He's telling her he's done with her. He's letting her know that he is finished, over it, and not really interested in pursuing any sort of future with her.
She's going to lose it. She's already borderline crazy, and this is the end of her little bit of sanity. She's done. She's got nothing left. She's got nothing else going for her, and we get it. We can see it, and we understand it. She's a mess, and he cannot do anything about it other than walk away. Meanwhile, Kristen wants Xander to kill Ted, Hope is going to try and find him, and Rex is going to tell Sarah he's tired of waiting to get married – let's do it now.
Stay tuned for more Days of Our Lives and be sure to check out TVOvermind daily for the latest Days of Our Lives spoilers, news, and updates.