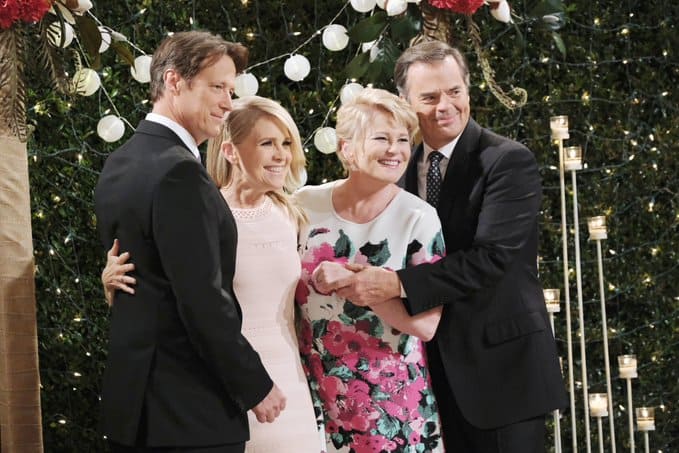 Days of Our Lives fans feel like things turned a bit last week. Ciara is upset. She's not looking forward to her niece coming out of Bayview, and she certainly doesn't want her at her wedding. Claire, on the other hand, is so excited about the wedding she cannot contain herself. We think there is no chance she's truly excited for them and looking forward to this for anything other than dark reasons, and we are upset by this. But, there is nothing that will change this for now. We just have to sit back and see how things go for the time being. Right now, though, it is nothing short of a total mess. We hope that she doesn't ruin their wedding, but we would not be even remotely surprised if she did. This is how she is, and her feelings for Ciara are just not positive anymore. She's lost all her good feelings.
Gwen is still on the loose with her new friendship with Claire, and we know this is not good. Jake is going to need to find her before Gabi does, and things are going to become a little interesting when this all goes down. On the other side of that is all that is going on with the rest of the people around here. Right now, we have to assume there is more to this than meets the eye. Right now, we have to assume that we can see things happening for Brady, but we also know that Allie is in town. Pregnant and alone, and she had to tell Lucas the truth. This was not even remotely easy for her, and nothing is going to go well now that she needs her uncle and Nicole to keep her secret to themselves. We don't think that they can.
What's Happening on Days of Our Lives
Congratulations to our cast and crew on their Daytime Emmy nominations! #DAYS pic.twitter.com/9siTUNSlfo

— Days of our Lives (@nbcdays) May 21, 2020
This is the kind of news we love.
What's Next on Days of Our Lives
It's a summer of love in Salem, with weddings for four couples and a baby for Will and Sonny. Watch #DAYS, weekdays on @NBC. pic.twitter.com/5Z6YPVoRN7

— Days of our Lives (@nbcdays) May 29, 2020
Things are taking an interesting turn as the new week begins. For one, we cannot wait to see what happens now that Julie is going to see Jake for the first time. He looks exactly like the dead man who gave her his heart, and this will shock her unlike anything else. On that note, we also know that Sarah is going to do something horrible. She's going to ask Brady if they can do something that will allow them to get their revenge taken up a notch. They are both furious with Xander and Victor, and they will do anything to get these two to make things right. They are not afraid.
Claire is going to tell Ciara that she's sorry for what she did, she's sorry that it all went down the way that it did, and she'd like to try harder. She doesn't mean it. We know she doesn't mean it. She cannot mean it. But, will Ciara fall for this in any way? We aren't sure. Ben is going to ask Will to come stand up for him at his wedding by being his best man, and we cannot think of a more appropriate person for Ben to ask this question. We hope he says yes, and we do hope that this wedding is able to go off without a hitch. We wouldn't be shocked if there were not some issues here and there, but this is one of those things that just makes us happy thinking about it actually happening and going well for this couple.
Stay tuned for more Days of Our Lives and be sure to check out TVOvermind daily for the latest Days of Our Lives spoilers, news, and updates.