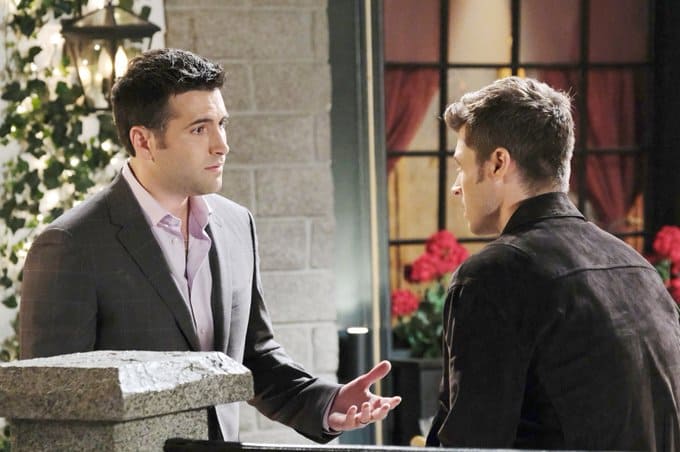 Days of Our Lives fans were all horrified and upset when we had to watch the emotional farewell between Maggie and her loved ones. She's the woman who caused an accident that caused death and destruction across the entire Salem area, and now she's going to jail for it. She didn't know she did this. But she learned the truth, she turned herself in, and she absolutely did the right thing. Now she has to pay the price, and her husband is nothing short of entirely horrified. Her entire family is horrified, if we are being honest. She's in a rough spot right now, and it did hurt us to watch this all go down. We wish there was something we could do to make this go away. We wish we could find out if this was a situation e could help or if it was one we knew would rectify itself sooner rather than later.
Ben, however, was released. And he is more than happy to be home. He's someone with whom we've been suffering. Him being away from Ciara during this time has been the most horrible situation. They are so in love and so happy with one another, and they are so good to one another. They are having their own reunion that is happy and peaceful, and it's only bade better for Ciara because her mother is back to herself. She was so worried about so many things, and her mother is the biggest issue right now. She has no recollection of what has been going on in her life for more than a year now since Gina took her over, but Kayla is doing all she can to help with that as far as we can tell. It's a situation that will not get easier.
What's Happening on Days of Our Lives
In the latest #DAYS, Eli bolsters Lani as they all spent the night looking for David. https://t.co/Gv7Weu4Q6W pic.twitter.com/xyphbl1MJh

— Days of our Lives (@nbcdays) March 18, 2020
Will this work?
What's Next on Days of Our Lives
Salem's list of villains just got longer – Orpheus is back! Watch #DAYS, weekdays on @NBC. pic.twitter.com/w4XkEvJaEd

— Days of our Lives (@nbcdays) March 13, 2020
There's a lot going on right now, but we know that Nicole is finally going to open up to someone about what she has learned about the babies. She's not yet got the proof she needs before she begins making these accusations – though she is certain she knows the truth – so she's going to Abe with her suspicions. Will he see that she might be correct, or will he tell her that she's just using some wishful thinking in hoping that the baby she knows is alive is not the one that is dead? She doesn't know, and neither do we. Additionally, we also know that there is a bit of a situation with Hattie. She's going to beg Roman to share with her how he feels about her, and it might not be what she was looking for. We cannot say for certain, but we don't think that this is going her way.
Eric is not sure that there is a good way for Xander to be part of his child's life. He knows what a bad man that Xander is, and he's not sure that he is comfortable with the man in his daughter's life. He knows there is nothing he can to do to stop Sarah from marrying him, but he doesn't want this man in his baby's life, and he is firm on that one. Ben and Ciara are all about the romance right now after so many months of being apart, and we are all here for it.
Stay tuned for more Days of Our Lives and be sure to check out TVOvermind daily for the latest Days of Our Lives spoilers, news, and updates.