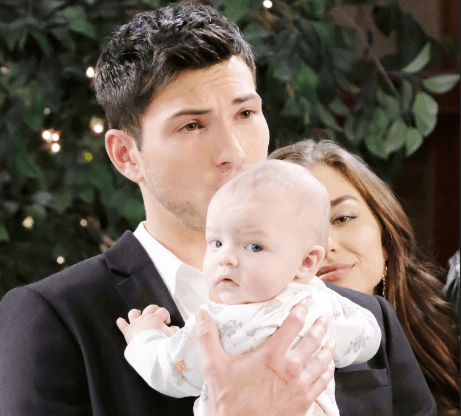 Days of Our Lives fans know that the last week was a tough one. We saw that Claire would do anything and everything in her power to ensure that Tripp and Haley could not get married. They are not getting married because they love one another and want to spend their lives married. They're doing it because they are friends and he wants to help her stay in the country without getting deported. She has feelings for JJ and she wants to be with him. She was mad at him for a moment because she thought he betrayed her and told his family that she was there without the proper documentation, but that is not the truth and she is now aware of that. Claire, on the other hand, is just feeling awful and vindictive and upset by all of it. She wants to be sure that things are not working in her favor, and she's not sure she is able to focus on anything other than the fact that she is getting her own way.
Eric offered to help Jennifer make sure that Eve and Jack could not get married. Rafe decide he would be the one to care for the baby that Jordan has that no one knew she had. And Hope is not all that on board with his decision. Things are taking an ugly turn for them with their situation out of control, and she's also been spending entirely too much time with her friend, Ted, who has professed his love for her. Things are not in her control anymore because she's let them go too far, and now we have no idea how she will focus on getting her situation under control. It's not going well for her, and this is not something we can handle.
What's Happening on Days of Our Lives
In between #DAYS scenes we play rock, paper, scissors.

📷: @freddiemsmith pic.twitter.com/YI3jRwlOgH

— Days of our Lives (@nbcdays) April 12, 2019
We love rock, paper, scissors in our house.
What's Next on Days of Our Lives
Two of Salem's most beloved citizens face their mortality when Will receives a devastating diagnosis and Rafe is caught in the line of fire. Watch Days of our Lives, weekdays on NBC. #DAYS pic.twitter.com/q16DDOWLFi

— Days of our Lives (@nbcdays) April 12, 2019
Things are not going to improve this week, and we will see a lot happen. For one, we are going to see that there are a few things that will change for the better. For one, we will see that Ben is going to invite Ciara to spend the night with him, which is something they've not yet done. And we do think this might be the moment their game changes and they end up together. We are hoping for that, because they are so good together. We want to see it, and we want it to go that direction. They are good, and he is good, and he is changed, and she is good for him. She's a big part of that. Meanwhile, Eric is about to make an offer to Sarah that will change her own situation, too. She's set a date, and he is about to learn that.
He doesn't want her to marry Rex. And when he finds out that they have set a date for their wedding, he will be less than amused. He's going to make an interesting offer, and we think that things will take a very fun turn when they realize that this is going to be a situation they cannot control. We do love it, though. They have so much to offer that will change their game, and it might just be good news for all of us. We love it, and we want to be there to see this happen for them. They're good together, and it might just work for them.
Stay tuned for more Days of Our Lives and be sure to check out TVOvermind daily for the latest Days of Our Lives spoilers, news, and updates.